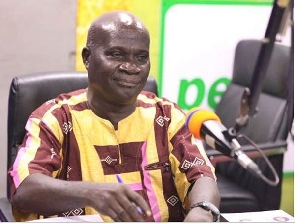 Head of Linguistics at the University of Ghana, Professor Kofi Agyekum, popularly called Opanyin Agyekum, has appealed to the government to reconsider its decision to include individual bondholders and pensioners in its Domestic Debt Exchange Programme (DDEP).
Opanyin Agyekum was worried about government deciding to touch the monies of pensioners who are well-advanced in age (60 years and above) as well as those who have invested in bonds and were expecting to reap their benefits but are now told there will be a zero benefit on their bonds.

He noted that this decision will bring untold hardships on the victims.

"One thing about this government is that there are some things they do before they announce it or do it before they realize they shoud have done it this or that way. That is one of the diseases. Didn't the President tell us there will be no haircut?...With what they are doing now, what is called?, he asked while speaking on Peace FM's "Kokrokoo" show.
Professor Kofi Agyekum implored the government to find a more better way to restoring the economy without compounding the plight of Ghanaians.

"I don't believe some of the banks even understand this (DDEP). I don't think a lot of the NPP MPs even understand what they are doing," he added.