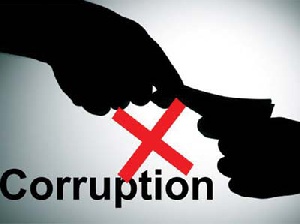 The Ghana Integrity Initiative, the local chapter of the Transparency International has said it followed keenly developments in the country in the year 2017 and has in the aftermath of the release of its mother body's Corruption Perception Index spoken up.
"Last year apart from the NCA and BOST saga, some Parliamentarians were alleged to have taken cash from some people who appeared before them. The Cash-for-Seat saga also came up", the Programs Manager of Ghana Integrity Initiative (GII) Mary Addah told Starr FM as mynewsgh.com monitored.

She singled out a particular case many people considered as President Akufo-Addo's first test case in his fight against all forms of wrongdoing in his government: the Bulk Oil Storage and Transportation Company BOST's fuel contamination and the subsequent sale of the fuel to unlicensed companies under dubious circumstances as confirmed by the government's own National Petroleum Authority (NPA).

"The issue at BOST is one that relates to government. We believe the investigation should have come with some sanction. We needed to see commitment by govt because we believe there was wrongdoing", the GII Programs Manager said.

"If something happens and the president steps in, what do you think anybody can do. If all we hear is the BNI has taken over in a matter that is supposed to be investigated, it creates the impression that something is being covered", she said on Starr FM.

She was commenting on and responding to questions about Ghana's poor showing on the 2017 Corruption Perception Index by the Transparency International.
"Issues of bribery, abuse of power, extortion in our public sector that goes freely without any sanctions has brought us where we find ourselves", she summarized.

She, however, expressed hope about the office of the Special Prosecutor, hoping it will tackle all forms of corruption in the coming days.

"GII was happy when we were to have the Special Prosecutor because we need someone who would focus on investigating corruption and acts of corruption", she said.

She was however quick to add that "if the Special Prosecutor Office should bear any fruits in the fight against corruption… we should see actions other than the rhetoric".