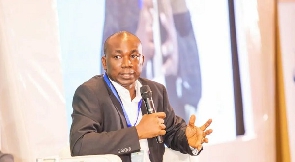 Economist, Professor Godfred Bokpin, has lamented the government's fiscal posture in the midst of the current economic crisis.
According to him, it was a nerve-wracking experience for creditors who were involved in the initial debt exchange programme, and therefore the government is expected to make the necessary adjustments to live within its means.

But that is not happening, he stressed.

Prof. Bokpin said the government's current approach to the upcoming general elections does not smack of a country in a debt crisis.

He noted that at the point where government was celebrating its success from the initial debt exchange programme, it was unnecessary since there was still more to be done to restore macroeconomic stability.

"You remember on this same programme, we said that the government was celebrating the success that wasn't really a success. It was pretty clear to us that the government didn't get exactly what it wanted.
You know, the government is still spending as though there's no crisis. Government is living a lifestyle that suggests that it is harvest time. If you look at our approach towards our elections and all of that, it tells you that this approach of royals versus subjects, subjects being creditors, and can be treated anyhow and all of that, I think it's not good for nation building. It's not good for building your own financial markets," he was quoted by myjoyonline.com.

The government recently re-opened its invitation for the DDEP in relation to the February 2023 Exchange on September 13, 2023, to enable holders of domestic bonds and notes who could not take part in the exercise to do so.

Click here to start the nomination process for the 2023 GhanaWeb Excellence Awards

The Finance Ministry said government was this time inviting holders of the domestic notes and bonds of the Republic of Ghana E.S.L.A. Plc, and Daakye Trust Plc, to tender their holdings of the eligible bonds in exchange for a package of new tranches.

It also noted that the invitation was available only to registered holders of eligible bonds that were not Pension Funds.
SSD/MA

Ghana's leading digital news platform, GhanaWeb, in conjunction with the Korle-Bu Teaching Hospital, is embarking on an aggressive campaign which is geared towards ensuring that parliament passes comprehensive legislation to guide organ harvesting, organ donation, and organ transplantation in the country.

Watch the latest edition of BizTech below:



Click here to start the nomination process for the 2023 GhanaWeb Excellence Awards