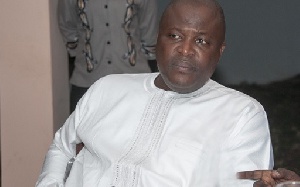 Lands and Natural Resources Minister, Peter Amewu, has said that government will soon release mining equipment belonging to Engineers and Planners, owned by Ibrahim Mahama, brother of ex-President Mahama, whose firm was sub-contracted to do bauxite prospecting.
According to Mr Amewu, he is "aware it [the equipment] has not been released".

He however said that he will consult the Ashanti Regional Minister, Simon Osei-Mensah, under whose instructions security officials seized the equipment, after which the company will be allowed access to the heavy duty equipment.

"The processes leading to the seizure of equipment… of course I need to talk to my colleague Regional Minister and then the equipment will be released," he said.

The company explained that per the contractual arrangement with Engineers and Planners, the cost per day for the total equipment, consisting of eight trucks, one Caterpillar generator and two container offices in police custody, is GHS 61, 615.00 which has resulted in huge loss of revenue to the firm.
Meanwhile, Mr Amewu has revealed that the mining lease in the possession of Exton Cubic Group Limited is null and void following failure to abide by laws relating to the license and some statutory infractions.

"Act 703 sections 87 grants the minister the procedure for revoking of licence and what that law says is that if for any reason the minister is satisfied that the company has fail to abide by the terms and conditions of the licence or a requirement applicable to the licence then the minister has the right under the clause 87 to terminate.

"The infractions have been carefully analysed and it has been established that it falls short of the procedural mechanisms that allow grant of lease and so that calls for the [invalidation]," he explained in an interview with Joy FM on Monday, September 4.