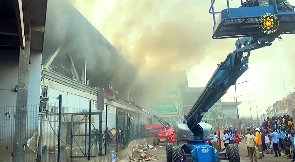 Minister-designate for Local Government and Rural Development, Osei Bonsu Amoah, has said government is poised to set up a committee to probe the cause of the fire outbreak that occurred at the Kejetia market last Wednesday.
In a report filed by asaaseradio.com, he said his outfit will depend on the result and recommendations issued by the committee to prevent fire outbreaks in markets.

"The Minister for Local Government and Rural Development reserves the right to form a committee and they will depend on the fact-finding issues and recommendations as to how to prevent such a situation again," Mr Amoah stated.

The minister added that although the market remains shut for the next 72 hours, the deadline could be extended to enable investigations and assessments.

"The initial closure period is three days but depending on the advice of the consultants and the stakeholders, it could go beyond three days; it could be a week, it could be three weeks, or even more, and for our safety we will extend the period to let the committee do its work," he said.
Mr Amoah further hinted that the market will be 'brought back to life' once the investigation is done with all the necessary security measures put in place.

He made this known when he led a high-powered delegation to the market on Friday, March 17, 2023.

VKB/ESA