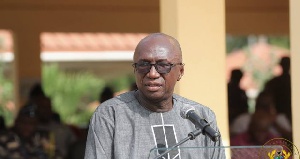 Mr Ambrose Dery, the Minister of the Interior, has re-affirmed the Government's commitment to making the Gaming Commission one of the best in West Africa.
He said the Government had put in place strategic plans to train staff of the Commission to ensure that they met international best standards.

Mr Dery said this on Friday when he toured the new office of the Commission with state-of-the-art facilities in Cantonment, Accra.

He said he was impressed with the facility and charged the Commission to continue to discharge its duty of regulating the gaming industry in the country.

Mr Dery said the Commission was one of the 10 agencies under the Ministry, which played an important role in licensing companies interested in operating casinos and other games of chance.

He expressed concern about activities of illegal gaming operators and charged the Commission to clamp down on those who flouted the law.

He advised operators to display sign posts in front of their businesses to discourage under-aged children from engaging in their activities; and charged the Commission to play its monitoring role to the letter to ensure the right persons were engaged in the industry.
Mr Peter Mireku, the Commissioner, said the Gaming Commission was established by the Gaming Act 2006, Act 721, to regulate, control, monitor and supervise the operations of games of chance in Ghana.

He said the Commission increased its revenue in 2017 by 41.2 per cent and expressed the hope to improve it in 2018.

The Commission would migrate from its analogue operations to a digitised system to ensure effective monitoring of tax payments by operators, he said.

In collaboration with the Police Taskforce, the Commission had confiscated a number of slot machines (jackpots) across the country because the operators had flouted the rules and regulations of the Commission.

This was part of efforts to protect the public from fraudulent entities who engaged in gaming activities, Mr Mireku said.