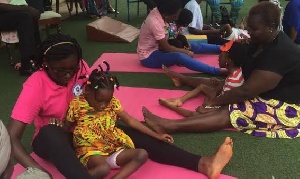 Mrs Lilian Bruce-Lyle, a Retired Chief Director of Chieftaincy, on Friday appealed to government to ensure that children with Cerebral Palsy are included in the inclusive education policy being rolled out.
Mrs Bruce-Lyle, who is also a Member of the Ghana Federation for Persons with Disability, said Persons Living With Disabilities (PWDs) expects government to formulate effective policies to address the implementation of equal opportunities for inclusiveness within all facets of their daily lives bearing in mind the SDG goals 4, 8, 10, 11 and water resources.

Mrs Bruce-Lyle was speaking at a ceremony to mark the celebration of World Cerebral Palsy Day in Accra, on the theme: "We Move Together: Inclusion Now".

She said there was the need for an appropriate national data on the various forms of disabilities in its segregated forms to inform decision makers and stakeholders.

This data, she added, would serve as research and an important tool for effective planning in the governance process.


She said Ghana as well as stakeholders was needed to move together for inclusion in all forms of endeavours to ensure that no one was left behind.

Mr Christopher Agbega, Advocacy Officer, Sharecare Ghana, said parents with children with cerebral palsy in the country face a huge challenge and therefore advocated for early diagnosis and intervention to curb the situation.

He said these were the key issues for prevention and appealed to government and professionals to give the issues more attention to make all Ghanaian children useful and relevant to society.

Ms Amanorbea Dodoo, Representing the Deputy Minister of Gender, Children and Social Protection, said Ghana had a long way to go in helping persons with disability.

She said the most important thing people, especially parents, needed to know as far as cerebral palsy was concerned, was the understanding to be an aid to such persons.
She encouraged the creation of opportunities to enable persons with disability to excel in society. "People need to focus their attention on people with special needs to help make them people useful in society.

Dr Zenator Agyemang Rawlings, the Member of Parliament for Osu Klottey, also called for a multi-disciplinary approach to deal with cerebral palsy cases in the country.

She said lack of inclusion was one of the challenges and called for a change in law to ensure it was accommodating everybody, adding that, this should begin at the basic level.

"Let us move together as a society and stay together in ensuring that cerebral palsy among other issues were addressed," she added.

Dr Zenator however, acknowledged all stakeholders fighting to ensure the wellbeing of children with cerebral palsy and parents for being responsible towards such children.
"Let's put pressure where it is needed to make sure the pace at which we are making Ghana a disability friendly nation is quickened a bit more because life does not move the same way for everyone," she said.

World Cerebral Palsy Day is a movement of people with cerebral palsy (CP) and their families, and the organizations that support them in more than 60 countries.

Its vision is to ensure that children and adults with CP have the same rights, access and opportunities as anyone else in society.