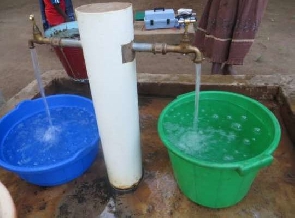 Sun, 26 Mar 2023 Source: GNA
World Vision Ghana has asked the government to prioritise access to safe drinking water in communities, schools, and health facilities.
Mr Robel Wamisho, the WASH Technical Programme Manager, World Vision Ghana, said access to safe drinking water was crucial for improved health, quality education, increased household income, food security, poverty reduction and socio-economic development, and that all efforts should be made to make the resource available at such public places.

The Technical Programme Manager made the call in Accra at a reception organised by World Vision to commemorate the World Water Day and to celebrate the collective accomplishments Ghana had made in safe water delivery.

World Water Day is celebrated annually on March 22 to raise awareness on the importance of safe water and advocate for the sustainable management of safe water resources.

The 2023 celebration is themed: "Accelerating Change to Solve the Water and Sanitation Crisis".

Mr Wamisho said with basic access to safe drinking water currently at 87.7 per cent (Population and Housing Census 2021), the country was on course to delivering sustainable safe drinking water to all of its citizens if efforts were redoubled to address the emerging bottlenecks.

"On World Water Day 2023, World Vision congratulates the government and all stakeholders for the good progress so far and the effort towards the sustainable delivery of safe drinking water to every Ghanaian everywhere," he stated.
He, however, urged the government to increase investment and support relevant institutions, including Ghana Water Company Limited (GWCL), Community Water and Sanitation Agency (CWSA), Water Resources Commission (WRC) and Water Research Institute to accelerate both rural and urban water supply to curb the perennial water shortages.

He also called on the government to explore and invest in alternative water supply technologies to reach unserved rural and small towns.

Mr Wamisho pledged World Vision Ghana's commitment to partner government, private sector, nongovernmental organisations, civil society organisations and other stakeholders towards achieving universal access to safe drinking water.

"For us, nothing can be more important to child wellbeing than access to safe drinking water, which is why we have invested heavily in the WASH sector of the country since 1985," he added.

"According to WHO/UNICEF Global WASH Monitoring Report, one in four people- 2 billion people around the world lack safely managed drinking water.

"In Ghana, 7,653 deaths were caused by WASH related illness in 2019, 21 people per day, almost one person every hour dying from preventable WASH-related diseases," he said.
UNICEF says a triple threat of water-related crises have endangered the lives of 190 million children alone in 10 African countries that are at the highest risk from a convergence of three water-related threats, thus, "inadequate water, sanitation, and hygiene, the burden of WASH related diseases; and threats of climate change".

Mrs Theodora Adomako-Adjei, Head of Extension Services, Community Water and Sanitation Agency, said the 2017/2018 Multiple Indicator Cluster Survey indicated that about 79 per cent of the population in Ghana had access to water but 48 per cent were drinking from contaminated sources.

She said the report also indicated that 76 per cent of the population was at high risk of drinking water at the point of use and as such Ghanaians needed to take safe water seriously.

Mr Stanley Martey, the Director of Communication, Ghana Water Company Limited (GWCL), reassured Ghanaians that tap water provided by the Company was safe and people could drink directly from it.

He said despite the challenges the Company is faced due to illegal mining activities, tap water was safe and met all standards.
Source: GNA