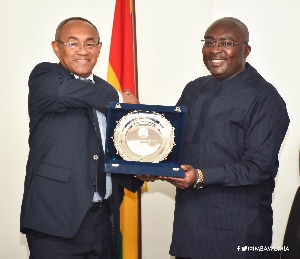 Vice-President Dr Mahamudu Bawumia has stressed that although the government does not intend interfering in the management of football at the national level, it will create the enabling environment aimed at ensuring that such management inure to the benefit of Ghanaians.
Towards that end, he said, the government had very high expectations of the administrators of football in the country because, "we want to make sure that football does well and is governed properly and so we will do everything in our capacity to support the development of football."

Receiving the President of the Confederation of African Football (CAF), Dr Ahmad Ahmad, and a delegation from the continental body, including its First Vice- President, Mr Kwesi Nyantakyi, at the Flagstaff House yesterday, Dr Bawumia said it was undeniable that the government and the people of Ghana were passionate about football; hence, government's commitment to ensuring that the sport succeeded at all levels.

"We don't really want to interfere in the management of football but we want to provide the environment for that management to benefit the country. So we have very high expectations of the administrators of football," he said.

The Veep said he was particularly happy that Ghana would be hosting the 2018 African Women's Championship and pledged the government's determination to ensure the competition was a success.
In response, the CAF President said it was commendable that the government of Ghana had contributed a lot to the development of football and also expressed his delight about the maintenance of harmonious relations between the government and the country's football regulatory body, GFA.

For his part, the GFA boss said Dr Ahmad was continuing the execution of the progressive agenda of football started by his predecessor, Alhaji Issa Hayatou.

Mr Nyantakyi expressed appreciation to the government for its continued support for the sport and called on Ghanaians to look into the future with hope for the various national teams and continue to give them the needed support.