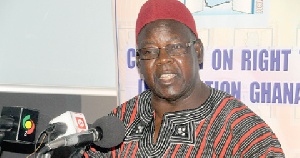 Anti-graft campaigner Vitus Azeem has commended the Auditor-General's Department for efforts at retrieving misappropriated state funds.
The commendation comes after the Auditor-General's Department released a list of 62 firms that have been surcharged to pay sums totalling GHS 8,886,791.9101742 to cover the period between 31 December 2013 and 31 December 2015.

The firms according to the Auditor General, Daniel Yaw Domelevo, received payments from the state with no documentation covering same.

The Auditor-General's office said it was left with no option than to publish the names of the organisations after various efforts to locate them failed.
Reacting to the development in an interview with Class News, Mr Azeem said the move will serve as deterrent for individuals and person with reputations to protect.

"It's a good move because in the past we have been complaining about [the fact that] the Auditor- General does his work and parliament sits in public and discuss it and that ends it.

So I think this is a step in the right direction, even if nothing at all happens, the fact that your name has been published in the papers as having misappropriated some funds, that alone should be enough to scare people with reputation, people who have conscience to try and avoid that in future," he stated.