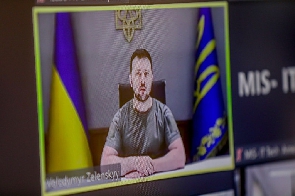 Sat, 14 Jan 2023 Source: GNA
Ukrainian President, Volodymyr Zelensky, said he is continuing his "diplomatic marathon" and held talks with Kenyan President William Ruto about food security.
"Our foreign policy must reach a new level with African partners," Zelensky said in his daily video address. The two leaders discussed the creation of what he called food hubs.

Zelensky said Africa had already realised that the security of various nations, depended directly on Ukrainian food exports.
"And we want to consolidate this at the level of concrete institutions, concrete objects – hubs, that is, concrete guarantees of food stability that will function constantly and will be one of the new foundations of relations between Ukraine and the countries of Africa," he said.

Ukraine is one of the most important grain producers in the world, but has struggled with exports due to Russia's war and blockade of Ukrainian ports.
Source: GNA