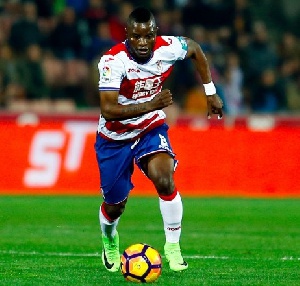 New Granada coach Tony Adams has revealed the club has already taken serious steps to have Mubarak Wakaso join them on a permanent deal from Panathinaikos.
The Black Star midfielder is currently on a half-season loan from Greek giants Panathinaikos, and has so far made 10 league appearances for the struggling La Liga club, who sit second from bottom on the table.

"I don't expect the supporters to be happy with the situation," Adams said.

"I'm not, the owners aren't, but it's important for us to keep fighting, try everything we can to get results in the short term and to stay in La Liga.

"Longer term obviously we need to build a football club, but that's going to take a little bit longer. Hopefully the supporters will understand.
"I met them yesterday, they're completely aware of the situation.

"I told the supporters that we've already got [Rene] Krhin signed, Wakaso we're trying to do in the next couple of weeks, Ingason is signed to the club, [Matthieu] Saunier is signed to the club, whatever division we're in. We've got some very good players."

The Ghanaian will be missing when they take on Seville in the league this weekend.