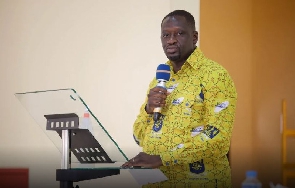 As the nation charts a recovery from a series of crises occasioned by COVID-19, the inclusion of climate-compatible and resilient infrastructure is crucial for promoting economic opportunities, expanding social protection and enhancing the overall quality of life for all residents of Ghana.
Consequently, it is imperative that the national development strategy prioritises the adoption of strong environmentally-friendly solutions. This is a principal point from an extensive study conducted by the University of Ghana (UG) in collaboration with Zambia Institute for Policy Analysis and Research (ZIPAR) and University College London (UCL) detailing how Ghana can achieve its social and economic greening recovery goals.

According to the two-year research, the willingness of donor agencies and the private sector to partner the government in its green agenda should be leveraged and enhanced through significant capital investments and capacity-building efforts.

Speaking at the launch of a report on the subject theme 'Greening the Social and Economic Recovery in Ghana and Zambia', the Principal Investigator (PI) of the project, Dr. Simon Bawakyillenuo, said policy decisions taken now would significantly impact the economic and social position of the nation for decades, as he called for a departure from what he described as a "business as usual" approach to policy and execution.

Strategy
The research project explores two potential pathways for greening Ghana's recovery: the leapfrog scenario and the blended scenario.

The leapfrog scenario advocates for decisive action to move away from fossil fuels and decarbonise the economy, while the blended scenario takes a more incremental approach by combining investments in both fossil fuels and cleaner technologies, with a gradual phasing down of fuels in the long-term.

However, the financial limitations and inadequate resources faced by the nation make it currently impossible to immediately leapfrog towards its greening and sustainability goals.

Therefore, the recommendation is for Ghana to opt for the blended approach, which involves continued investment in fossil fuels alongside cleaner technologies. With enhancements to this approach, Ghana can eventually transition towards a leapfrog scenario.
Action

To achieve an alignment of Ghana's development framework towards a green economy and to support the green recovery initiative in the short to medium-term, Dr. Bawakyillenuo, who is also a Senior Research Fellow at the Institute of Statistical, Social and Economic Research (ISSER) outlined seven cardinal recommendations from the project.

This, he says, would require sustainability to be 'mainstreamed' in the Medium-Term National Development Policy Framework (MTNDPF), the Coordinated Programme for Economic and Social Development Policies and other long-term plans and policies.

Underscoring the need for Ghana to restructure its COVID-19 policies and programmes so that they have a greater focus on green transformation, he stated that the landmark COVID-19 Alleviation and Revitalization of Enterprises Support programme for example, needs reorientation to encompass a more specific focus on environmentally sustainable businesses and products.
Additionally, he averred that it is of paramount importance for the country to update its scope and orientation of policies for decarbonisation and sustainability, noting further that: "The environmental and sanitation policy, the Ghana national transport policy, and the national water policy should be reviewed and updated as a matter of urgency since they do not fully integrate sustainability goals".

While stressing the need for Ghana to revamp and sustain its existing green transport initiatives, he said it is exigent for the country to also strengthen its administrative and fiscal decentralisation to Metropolitan, Municipal and District Assemblies (MMDAs).

"These assemblies have a key role to play in the shift to a greener economy, but will require sufficient resources to achieve this," Dr Bawakyillenuo further said.

Given its dire financial state, Dr. Bawakyillenuo indicated that Ghana requires innovative ways to attract private sector investment to shore up its green recovery initiative.
"The development of innovative financing and incentives is also key to realising this goal.

"We also need to ensure that policies for individual sectors are compatible with green economic development. For example, policies to promote electric cooking and mass transport need to take into account the electricity needs of industry, and that there is enough investment in low-carbon electricity," he added.

This comes as the war between Ukraine and Russia has underscored the need for accelerated green recovery pathways, as it impacts global energy and food security, particularly affecting vulnerable populations and countries, especially in sub-Saharan Africa.

Already, the United Nations indicates that despite the heavy up-front cost, investing in green recovery can reduce extreme poverty by 15 percent compared to pre-COVID conditions, with further analyses revealing that achieving the Sustainable Development Goals can unlock US$12 trillion in market opportunities and create 380 million green jobs, globally.