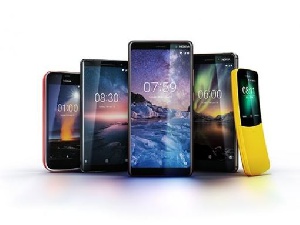 Thu, 22 Nov 2018 Source: HMD Global
It's November! The season for pre-festive season shopping deals. Of particular interest is Black Friday, the fourth Friday in the month when retailers offer consumers bargain deals.
This is something that is gaining more and more traction in Ghana. Words like 'deal', 'discount' and 'bargain' is enough to get anyone excited, the over-excitement however, can lead you to select mis-leading deals.

Never fear for, HMD Global, the home of Nokia phones, is here to provide you with reliable black Friday hacks to help you get the most out of your mobile shopping experience.

Set a budget: Set a clear budget for yourself and stick to it. No deal is worth it if you can't actually afford it.

Go incognito: Open an incognito window to enable private browsing and disable plugins, some websites can track your previous visits or coupon plug-ins and adjust their prices accordingly.

Be a social guru: Have your eyes peeled on social media. Follow retailers on Twitter and Instagram and like them on Facebook for regular and up to date sale news on your social feed. Some stores also have websites where customers can sign up to receive deal alerts.
Price check ahead of time: Know the average cost of the item you are purchasing. Watch out for hidden shipping/delivery costs and inflated items that "seem" on sale.

Don't purchase for the sake of it: Consider what you want to purchase ahead of time in terms of needs not wants. Consider upcoming birthdays and the Festive Season.

Add to cart ahead of the rush: Once you've decided on what you really need, add those items to your cart in advance. In most cases your discount will auto appear as soon as the sale starts.

If it feels unsafe, it probably is: Ensure the website you are purchasing from is safe and the payment portal is trusted and secure.

"With the demand of mobile shopping on the rise in Ghana, consumers should be aware of the mobile features on their device to make their shopping experience more effective and enjoyable," said Joseph Umunakwe, General Manager, HMD Global West, East and Central Africa .
"Those shopping on The Nokia 7 Plus for example, have added advantages." With the pure, secure and always up-to-date Android experience there are no unnecessary apps and no hidden processes eating into your battery life. Just a clean, pure version of Android 9.0 Pie that stays secure with all the latest updates, powered by the latest Google services, giving you peace of mind ahead of your 24-hour shopping spree.

Remember, be patient, not impulsive and you are sure to grab yourself some great deals this coming Black Friday.

About HMD Global

Headquartered in Espoo, Finland, HMD Global Oy is the home of Nokia phones. HMD designs and markets a range of smartphones and feature phones targeted at a range of consumers and price points. With a commitment to innovation and quality, HMD is the proud exclusive licensee of the Nokia brand for phones and tablets. For further information, see www.hmdglobal.com.

Nokia is a registered trademark of Nokia Corporation. Android, Android One, Google and Google Photos are trademarks of Google LLC; Qualcomm and Snapdragon are trademarks of Qualcomm Incorporated, registered in the United States and other countries. Qualcomm Snapdragon is a product of Qualcomm Technologies, Inc. and/or its subsidiaries.
Source: HMD Global