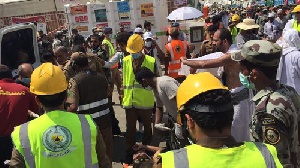 Officials of the Ghana Hajj Board are in a standoff with Ghana's Ambassador to Saudi Arabia over the actual number of Ghanaian Muslims who died from the stampede in Mecca.
Ghana's Ambassador to Saudi Arabia had told a section of the local media here in Ghana that 13 Ghanaian pilgrims died in Mecca whiles 21 others are missing.

Said Sinare further claimed that 8 out of the 13 died of natural causes and the remaining 5 from the deadly stampede that killed over 700 pilgrims in Saudi Arabia.

But the Hajj board is disputing the Ambassador's figure.
The Deputy Director of Communications for the board, Mohammed Amin Lamptey insists only three Ghanaians died from the stampede.

"The information put out by the Ambassador in Saudi Arabia cannot be true because that cannot be reconciled with what we have here as the communications unit of the Board.

"Our figure for now is eight; five from natural causes and three from the stampede ...for the number of people who are missing, officially I can say that the number is 18," he stated.
Related Articles: