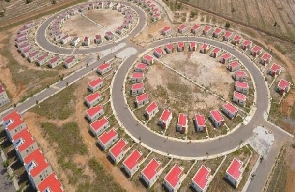 A group calling itself 'Team Saglemi Not For Sale' has kicked against government's decision to sell the Saglemi Housing Project to private developers.
The group made this known at a press conference held in Accra, today, Thursday, 16 February 2023.

Lead Convener for the group, Nana Otu Darko, explained that the Minister for Works and Housing, Francis Asenso Boakye said government has decided to lay hands off the Saglemi housing project to pave way for a private developer for lack of funds.

"Meanwhile, the same government that cries of being suffocated financially per our undisclosed checks, have strangely decided to build from scratch some 12,000 affordable housing units using the sale proceeds from Saglemi after it has been sold," Mr Darko said at a press conference in Accra.

According to the Convener, the group finds this "very disingenuous to the economic and socio-political health of our nation, and this is happening in Ghana at a time when Ghana can boast of very few national assets."

"Ghana airways, Black star line, Ghana's Drill ship, Ghana Telecom, Numerous Nkrumah's factories, amongst many other national assets have been sold off, Nkrumah's factories, amongst many other national assets have been sold off to aliens due to greed and limited vision."
He stated: "We will not keep mute and watch Saglemi housing projects meet her untimely death like the enumerated ones earlier stated.

He said the group is "against any plan by the sitting government or any future government to get a private developer to buy off the Saglemi Housing Project."

"We would, therefore, do whatever it takes to compel the government to look for funding to complete the project. The sale of Saglemi housing project defeats the purpose of affordability for which the government of Ghana contracted the loans. Affordability is not in the books of any private business person," Mr Darko added.

He quizzed "how affordable will the proposed private developer sell the housing units to Ghanaians especially when they are in business to make profit? How affordable is it when government is even the one selling it talk less of a profit oriented private business person?"

He noted that the project is not a failed one only that the government had not decided to prioritise it.
He, therefore, on behalf of the group appealed to "the President, Parliament, and the Council of State to halt government's decision of giving Saglemi Housing project out unceremoniously to a private developer without any real benefit to the Saglemi Township or even the military that the land was acquired in their name (per our checks) as well as the whole nation."

You can also watch this episode of People & Places here: