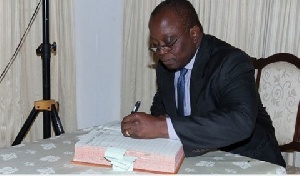 A social media campaign has been launched to protest what critics say intimidation of Ghana's Auditor General, Mr Daniel Yaw Domelevo.
Dubbed: #HandsoffDomelovo the campaign is led by the Economic Fighters League (EFL), a political movement.

Mr Domelevo is being investigated by the Economic and Organised Crime Office (EOCO) over procurement breaches — a move he is challenging at the court.

It has been suggested that the investigation amounts to persecution of the Auditor-General for his bold moves against corrupt public officials.

Since assuming office, he has not only uncovered massive financial irregularities in the public sector but gone ahead to surcharge individuals and organisations and recovered over GHC60 million so far.

But it appears Mr Domelevo is under intense attack from certain quarters particularly the ruling government.

The action by EOCO has, for instance, sparked uproar with Civil Society Groups in Ghana questioning their mandate.
The Fighters released a statement calling on what they called "partisan hawks" who had been "unleashed on the Auditor-General" to back off, and throwing their full support behind Mr Domelevo and the Audit Service.

According to a social media post, the Fighters said, #HandsOffDomelevo was a call to action, asking people to post messages on Facebook and Twitter, declaring their support for Domelevo.

"Look if they bring him down, we the people lose. We must, therefore, raise our voices, shout at the rooftops. Use every means available to you to let your voice be heard that you support the Auditor-General and encourage him to chase the thieves without fear or favour", the statement said.

The Fighters are convinced that top political appointees in government are going after the Auditor-General because he threatens their unbridled stealing of state resources and has vowed to mobilise the public against any form of intimidation of him.