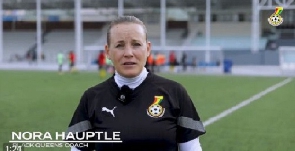 The head coach of the Black Queens of Ghana, Nora Hauptle says she is satisfied with the victory over Rwanda at the end of the tie in the first round of the qualifiers for the 2024 CAF Women's Africa Cup of Nations (WAFCON) tournament.
Speaking in a post-match interview after her side defeated their Rwandan counterpart 5-0 on Tuesday evening, the Black Queens coach said she is satisfied with the progress.

According to her, her team celebrates the win but recognises that there is still more work to be done.

"People ask me how many goals will you score. I tell them this is the wrong question because all the time we work on our performance. When we perform well we know the result will follow.
"We are happy. We had a good game. We passed to the second round so the coach is satisfied but still more work to do. In all I'm satisfied," Coach Nora Hauptle said.

Since taking charge of the Black Queens, Coach Nora Hauptle has played seven matches and won all games.

Her team scores for fun and its defense is very resolute.