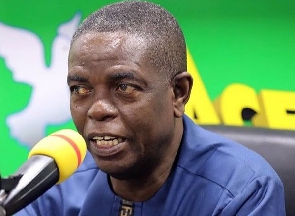 Veteran journalist and political activist Kwesi Pratt has slammed the leadership of the National Democratic Congress (NDC) for reshuffling Tamale South Member of Parliament (MP) Haruna Iddrisu in such manner.
Pratt argues that the party should have acted with much tact given his popularity and stature in the party and particularly in the Northern Region.

Mr Pratt asserted that it is incontestable that Haruna Iddrisu is the first among equals in the Northern Region and a move to change him as leader of the NDC Minority Caucus in Parliament without exhaustive consultation is reckless.

"…You know -and I want you to deny it -that Haruna Iddrisu may have all his faults but he is the Primus Interpares in the Northern Region. Deny it! I have been in Tamale on many occasions. I went to school in Tamale. I think I know Tamale very well. This is a man who comes to Tamale; he doesn't drive a car. I have seen him riding just ordinary bicycle moving from place to place, holding caucuses…His popularity is legendary. And I want you to deny that.
"Anytime he is touched, they have been repercussions. And so on. So if you want to remove such a person – he is not God – there are things that you have to do, knowing the political circumstances. [Removing him in the manner it has happened is a ] reckless move! Absolutely reckless move!" He argued on Pan-African TV.

His argument was in response to Inusah Fuseini's support for the decision to replace Haruna Iddrisu with Cassiel Ato Forson