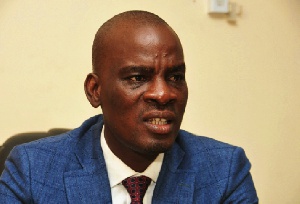 The Minority in Parliament has issued a stern warning to government to prevent the Agricultural Development Bank (ADB) from granting loans to what they say are cronies of the governing New Patriotic Party (NPP).
The Minority's caution follows the approval of a GHC10,459,500 million loan from ADB to McDan Shipping Company by Finance Minister Ken Ofori-Atta.

According to the Minority Leader and Member of Parliament (MP) for Tamale South, Haruna Iddrisu the Finance Minister has reduced his role to some credit disbursement entity to reward cronies of the government.

"The minister usurped the authority and functions of the bank and its board of directors, which has curiously not been constituted so we are concerned. So where are the board of directors of the major financial institutions of our country?" Hon. Iddrisu asked.

Addressing the issue on Peace FM's 'Kokrokoo', the Deputy Executive Director of the National Service Scheme, Nana Boakye cautioned the Minority Leader Haruna Iddrisu not to allow himself to be used by the Minority caucus.

According to him, Haruna Iddrisu's integrity is being challenged as he continually becomes the face of the Minority in every press conference.
In view of the ADB loan to McDan Shipping Company, Nana Boakye asked the Minority to prove any breach in the loan grant.

He noted that McDan did due diligence in the loan grant and has been a long standing customer of the bank which makes him legitimate for the loan.

Nana Boakye therefore expects the Minority to come out with concrete evidence of breach before they make any arguments against the Finance Minister.

To him, before the Minority raises eyebrows, they should be able to say "maybe, you (McDan) breached a Bank of Ghana Act or you breached a Financial Administration Act or a certain banking regulation. Or maybe the company's or the financial institution's regulation doesn't allow it or maybe the shareholders have a shareholders' agreement or document proving they shouldn't have done that".