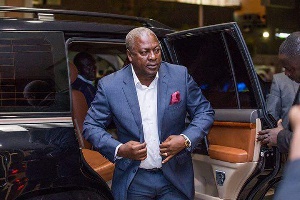 Former President John Dramani Mahama is expected to address participants of the 2017 African Development Conference in April 1, 2017 at Harvard Law School, Wasserstein Hall, Massachusetts Avenue, Cambridge.
The former President who is part of the keynote speakers will touch on his experience leading Ghana through massive infrastructure development and his work focusing on jobs, stability and development.

The event slated for March 31 to April 1, 2017 will revisit the enduring, yet dynamic and elusive, concept of "Pan-Africanism" as it takes shape in the twenty-first century and invite conversations on the increasing importance of cross-border and international cooperation and partnership for the continent.

The conference will explore creative, collaborative approaches to African challenges and opportunities.
These include governance and human rights, education, infrastructure, public health, gender and income inequality, Africa's economies and urban development.

Adv Thulisile (Thuli) Nomkhosi Madonsela, Forbes Africa Person of the Year 2016 and Mrs. Folorunso Alakija, a businesswoman who was listed among Forbes' 100 Most Powerful Women in the world are part of the keynote speakers.