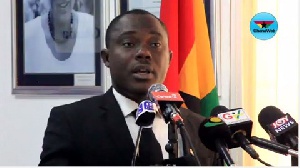 A senior Political Science Lecture at the University of Ghana and fellow at the Institute of Economic Affairs (IAE), Professor Yaw Ransford Gyampo has advised Ghanaians seeking more knowledge about certain portfolios in government not to allow themselves to be misled by Dr Hassan Ayariga.
He observed that the Supreme Leader of the All Peoples Congress (APC) is ignorant of certain things in governance yet is trying to make Ghanaians believe that he is an expert in the field expressing worry that very educated people will allow themselves to be misled by him.

"Very educated people taking tutorials from Hassan Ayariga who has ignorantly described the position as that of an errand boy is certainly regrettable", he noted in respect of the latter referring to Dr Edward Nasigri Mahama's appointment as that of an errand boy.

"I don't think I want to dignify Hassan Ayariga with any better response. There is a lot of ignorance in the system….people say a lot of things they don't know. To describe an Ambassador at large as an errand boy smacks of ignorance", he explained.

According to him, the continuous classification of the Ambassador as large post as an errand boy is borne out of ignorance on the part of Dr Hassan Ayariga and therefore urged Ghanaians to desist from taking lectures from him in that regard.
'He must take a course in diplomacy and international relations to help him broaden his understanding on the matter", he advised.

He said he needed to clarify his ignorant stance rather than allow it to fester on and be made to appear it is the reality which is not the truth.

'Those who don't know must take lessons in Diplomacy. Legon Centre for International Affairs and the Centre for European Studies at the University of Ghana are the places to go for knowledge on this matter'. He advised