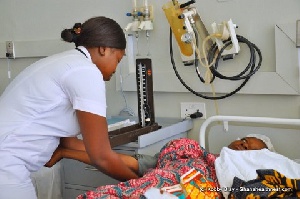 Thu, 28 Feb 2019 Source: GNA
The National Executive Committee (NEC) of the Health Service Workers' Union (HSWU) has kicked against the payment of insurance premium proposed by the Ghana Health Service (GHS).
The NEC said the GHS had proposed a salary deduction from employees to be used as insurance premium to cater for diseases not covered by the National Health Insurance Scheme.

The Committee said even before the proposal would come into force, it had observed that some health workers had already and their families were given full medical care even after they had retired.

This came to light at the end of the Fifth Regular NEC Meeting of HSWU held in Tema.

Mr Reynolds O. Tenkorang, the General Secretary of HSWU, who read the Communique, said NEC, in session, found that as discriminatory on the part of the employer "since what is good for the goose is good for the gander".

"The Union, therefore, calls for equal treatment for all our members instead of calling for the payment of premium from ordinary health workers," he said.
On the Tier 2 Pension data, he said currently, individual contributions, which were paid into the Temporal Pension Fund Account at the Bank of Ghana and have been transferred to the Health Sector Occupational Pension Scheme did not come with contributor's data.

That, he said, was making it extremely difficult for allocation of funds to individual accounts by the Scheme Administrator.

"As a result, our members who exited the Scheme and those who will do so from January 2020 are left in limbo as actual contributions are not known, so calculating their benefits by the Scheme has become problematic," he said.

"NEC is, therefore, calling on relevant authorities to produce data on our members to the above scheme to curtail the needless delay in accessing benefits from the Scheme by contributors".


Source: GNA