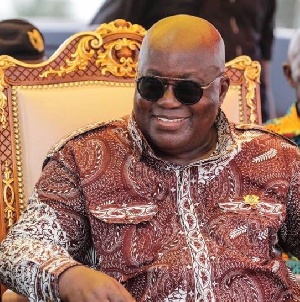 Sat, 20 Apr 2019 Source: Daniel Kaku
The Bono Regional Secretariat of the opposition National Democratic Congress (NDC) has taken a swipe at President Akufo-Addo and the ruling New Patriotic Party (NPP) for deliberately 'orchestrating attacks' on its members to put fear in them.
They made this known through a press encounter addressed by the Regional Communications Officer, Mr Charles Akowuah.

They expressed worry about the persistent attacks on members of the party by NPP thugs, especially in the Asunafo South Constituency.

They indicated that the attacks are well orchestrated to soil the reputations of Hon Eric Opoku and Hon Collins Dauda, Members of Parliament for Asunafo South and Asutifi North respectively.

They cited the attacks on Hon Eric Opoku on 1st April, 2018 by NPP thugs in Sakore and the attempts by gun-wielding policemen to arrest Hon Collins Dauda at his residence on 25th September 2018 a few of the many instances President Akufo-Addo and the NPP tried to intimidate the two Members of Parliament.

They further accused President Akufo-Addo and the NPP of masterminding the attacks on members of their party in Ahafo on Sunday, 14th April 2019, a day after President Akufo-Addo has publicly announced at Sankore that all Vigilante groups in Ghana would be disbanded.
"The NPP after taking over government in 2017, continues to consistently draw Hon Eric Opoku, MP for Asunafo South and Hon Collins Dauda, MP for Asutifi South into a deep mud to create public disaffection for them. Continuously, the NPP have been intensifying their arsenals to intimidate these two personalities in Ahafo region through their hoodlum groups sponsored by the NPP and their apparatchiks", they said.

"It could be remembered that on Sunday, 1st April, 2018, some NPP thugs attacked Hon Eric Opoku at his residence at Sankore and damaged his metal gates and windows, including three (3) vehicles; Toyota Land Cruiser – AE9449-14, Kia Spectra -AE 2667-13 and VW Passat- AE 3328-14", they continued.

They opined that "Strangely, these same NPP thugs never relented on their effort on attacking innocent NDC members in Bono and repeated their attacks on NDC members on Sunday, 14th April, 2019, a day after President Akufo-Addo had publicly announced at Sankore of his intention to disband all vigilante groups in Ghana".

They alleged "The NDC see this heartless attack on their members as a planned agenda executed by the NPP and the President to put fear into the members of the NDC. We, therefore, call on all members of our society to speak against this ill as it continues to put our hard-earned democracy into disrepute".
Source: Daniel Kaku