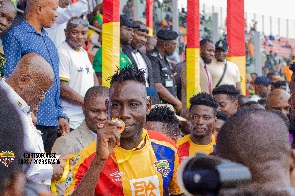 Hearts of Oak have congratulated their forward Yassan Ouatching after he received a call-up to play for the Central African Republic (CAR) in the upcoming Africa Cup of Nations (AFCON) doubleheader against Madagascar later this month.
Ouatching was named among the five attackers selected by CAR coach Savoy Raoul for the qualifiers, which prompted Hearts of Oak to take to social media and wish their player well ahead of the games.

"The Phobia family congratulates Yassan Ouatching for his call-up into the National Team of the Central African Republic," Hearts of Oak posted on Twitter. "For Club and Country."

Despite a tough season with Hearts of Oak, Ouatching has impressed the CAR coach and earn his spot on the team for the AFCON qualifiers. He has previously played for the CAR on two occasions but has yet to score a goal.

The first leg of the doubleheader against Madagascar is scheduled for March 23, with the second leg taking place a week later. The Central African Republic will be hoping to secure a win in both matches to boost their chances of progressing to the AFCON finals.

Currently, the CAR is in third place in Group E, with one point, which is the same as fourth-placed Madagascar. Ghana leads the group with four points, followed by Angola in second place, also with four points.


?s=20