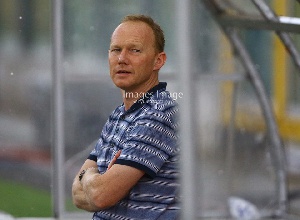 Hearts of Oak could lose their head coach Frank Nuttal after failing to pay him for the past five months.
Reports emerged in the early hours of Monday that the technical team of the Accra club have not been paid for the past five months including the Scot.

GHANAcrusader checks have revealed that the last time members of the technical team got paid was back in February.

Admittedly, the spokesperson of the club Kwame Opare Addo told Happy FM of the sad development: "We owe the technical team for some months, but management is doing everything possible to pay them within the next coming day," he said.

"Currently, I can't confirm if head coach Frank Nuttall is part but what I know is we owe the technical team for some months."

However, GHANAcrusader checks have revealed that the head coach of the club is overly angry at the embarrassing development given the management two weeks ultimatum to pay his salary.
Our investigations further revealed that the Scot deliberately traveled to his native land a day before Hearts played their bitterest rivals Asante Kotoko in the 2017 GHALCA President's Cup a fortnight ago to register his displeasure.

Indications are that the fine coach who has transformed the side after a wishy washy outing under former Portuguese manager Sergio Traguil could bid farewell to the club following the incompetence of management.

The playing body who were owed a similar number of months were given three months salaries ahead of their clash with Kotoko in the President Cup game but the hardworking technical team has been ignored.

Frank Nuttal will be the forth coach to bid farewell to the Phobians over poor managerial practices if he leaves after Kenichi Yatsuhashi, Yaw Preko and Sergio Traguil.