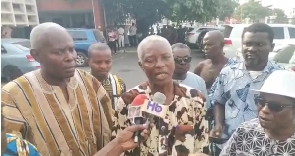 An Accra Circuit Court 9 presided over by Mr. Samuel Bright Acquah has adjourned to February 1, 2023, the case involving the Greater Accra Regional Minister, Henry Quartey and the Head of Nii Odoi Kwao Family, Nii Odoi Kwao II.
The adjournment, according to the Court, was to afford the prosecutor enough time to conduct investigations into the case.

Nii Odoi Kwao II who is alleged to have insulted the Minister, Mr. Henry Quartey, has been charged with causing road obstruction, the threat of death, assault on a public officer, and offensive conduct which is conducive to the breach of public peace.

Nii Odoi Kwao II was arrested and remanded into police custody for one week by the same Circuit Court on Friday, December 9, 2022.

This has caused tension in some parts of Osu, as family members are upset about the circumstances that led to Nii Odoi Kwao II's arrest and remand.

He was apprehended at his home by Osu Police around 2 p.m. on Thursday, December 8, 2022, and taken to Osu Police station before being transferred to the Accra Regional Police Command, where he was granted police inquiry bail.
According to family members, after Nii Odoi Kwao II allegedly insulted Mr. Quartey, security personnel stormed Nii Odoi Kwao's house and vandalised property, including a vehicle.

The family described the incident as unfortunate, illegal, and an infringement on their relative's fundamental rights.

Meanwhile, speaking to the media after the court session, Nii Odoi Kwao II stated that the family is willing to engage the Minister if he takes the necessary steps.

He stated that the Minister has shown no remorse, which is why he [Henry Quartey] is keeping his car at the police station.

He explained the issue has moved beyond him as an individual to a family matter, and he could not take a personal decision on the matter.
"The family I lead is not your typical family. No investigator has contacted me since the beginning of the case. What I do know is that my chief, the President of the Greater Accra Regional House of Chiefs, dispatched the registrar and a lawyer to investigate what was going on. He [My Chief] wished the case could be settled outside of court. But I replied that I was not the one who brought the case to court. I was the one who was humiliated and disgraced. But if they show up and say something reasonable, we'll cross that bridge when we get there."

He stressed that the family was willing to open its doors to the Minister so both parties would iron out their differences.

Concerning the towed family car, he stated that it was still in the custody of the police and that he expected them to return the car to him and the family to demonstrate some level of remorse, but that has not occurred.