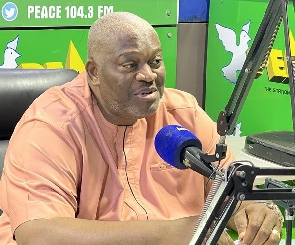 Wed, 25 Jan 2023 Source: GNA
Sheila Bartels, the Member of Parliament (MP) for Ablekuma North Constituency in the Greater Accra Region, has called on the judiciary to collaborate with Metropolitan, Municipal and District Assemblies (MMDAs) to ensure strict enforcement and compliance of sanitation bylaws of the assemblies.
She made the call on behalf of the Greater Accra Regional Minister, Henry Quartey during the inauguration of a District Court at Ngleshie Amanfro, in the Ga South Municipality.

Present at the inauguration was Chief Justice Kwasi Anin-Yeboah; Sylvester Matthew Tetteh, the MP for the Bortianor Ngleshie Amanfro Constituency, and Joseph Nyarni, the Municipal Chief Executive (MCE) and other dignitaries.

Ms Bartels said the court would not only facilitate the effective administration of justice but also enhance good governance.

She appealed to the judiciary to set aside special days for the adjudication of sanitation related offences in realization of the President's vision to make Accra the cleanest city.

Mr Tetteh said although the Assembly was created few years back, a lot of development projects have taken place.

He said it was a bold decision to build a court in the area to ensure administration of justice was brought closer to the people.
Meanwhile, the Awutu-Senya-East Municipal Sanitation Taskforce has charged a resident, Yaw Desmond to sweep a portion under the Kasoa overpass for eight hours for dumping refuse there.

Desmond collected monies from market women to dump their refuse at a dumping site but ended up spilling them under the Kasoa overpass at the old market.

He was arrested by the task force and detained in a police cell till the following morning when the assembly directed him to sweep for eight hours to serve as a deterrent to others.

Senior Public Health Engineer of the Department of Environmental Health and Sanitation Unit of the assembly, Mr Gabriel Agyei Abrefa had earlier warned in an interview with the GNA, that the assembly will this year, strictly enforce its sanitation bylaws to address sanitation challenges in the area.

He said anyone arrested in such an act would face instant justice based on the Assembly's bylaws by sweeping the portion littered or face court action if the need be.

He advised market women to dump their refuse at the allocated places provided by the Assembly in the market and desist from assigning unrecognised people to undertake such activities.
Source: GNA