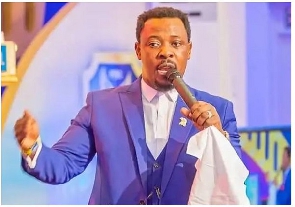 GhanaWeb feature
The founder and leader of the Prophetic Hill Chapel, Prophet Nigel Gaisie, has accurately predicted three major events in 2023 as contained in his New Year's prophecies.

The prophecies, which were made earlier in the year, have been confirmed to have manifested correctly.

In his prophecy dated March 5, 2023, Prophet Nigel Gaisie saw soldiers invading a town in a West African country, either Ghana or Nigeria.

It would be recalled that soldiers recently invaded Ashaiman town in Ghana to beat residents over the murder of their colleague, confirming the accuracy of the prophecy.

The soldiers arrived in the town in buses and an armoured car with a chopper providing aerial cover. They entered the Ashaiman township and in the course of their operation, subjected some residents to various forms of assault.

The invasion came after a young soldier was found dead in a neighbourhood of Ashaiman having repeatedly been attacked.
Secondly, in a Facebook post on April 26, 2023, Prophet Nigel revealed that he had earlier foreseen President Nana Addo Dankwa Akufo-Addo nominating a woman as the next Chief Justice of Ghana. This prophecy came to pass when the President nominated a female Supreme Court judge, Justice Gertrude Torkornoo, as the Chief Justice.

Finally, in his 31st-night prophecies about a country he called 'the Republic of Yenp3 Nokere', which has similarities with Ghana, Prophet Nigel Gaisie predicted an attack on Ghana's Parliament, where two members of parliament won't make it to the last meeting of the legislature.

Although this prophecy has only partially manifested with a sitting Member of Parliament, Philip Atta Basoah, the MP for Kumawu, died recently, the attack on the parliament has yet to happen.

Prophet Nigel Gaisie's accurate predictions have generated a mixed feeling as many are now looking forward to his future prophecies, hoping for more accurate predictions.

Meanwhile, watch the latest episode of People and Places on GhanaWeb TV below:




Watch the latest episode of The Lowdown below:






AM/SARA