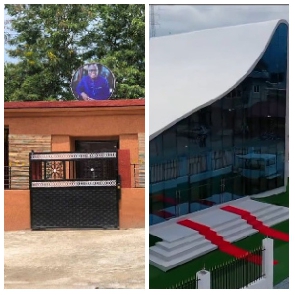 Within the embrace of revered grounds lie the resting places of notable individuals who once shaped the course of history in Ghana.
These sacred sites, like towering sentinels, bear witness to the legacies left behind by figures.

These monumental final abodes not only serve as tributes to those who have passed but are also living symbols of their profound impact in the society.

Sir John's plush final resting place

The final funeral rites of Sir John was held in June 3, 2021, at his home town, Sakora Wonoo, in the Kwabre East District of the Ashanti Region.

The former General Secretary of the governing NPP died on Wednesday, July 1, 2020, at the Korle Bu Teaching after COVID-19 complications.
Before the funeral service, a photo of the NPP bigwig's final resting place has popped up on social media.

The photo showed a painted walled and gated edifice looking like a 2-bedroom house with a huge picture of Sir John mounted on it.

Sir John, known in private life as Kwadwo Owusu Afriyie, was born in 1957. He was a Ghanaian lawyer and politician.



State-of-the-art final resting place of Rev. Anthony Boakye
The funeral of the Sir John, was the talk of town for many obvious reasons, besides the fact that he was a popular clergyman.

His popularity reaches so far that even the President of Ghana, Nana Addo Dankwa Akufo-Addo, was also in attendance.

But the biggest headlines have been on how his funeral did not only fill the mouths of many, but it took place at three important venues in the capital, Accra: the Independence Square, the Accra Sports Stadium, and the Accra International Conference Centre (AICC).

With long queues stretching outside the venues used for the three-day ceremony, many well-wishers, sympathisers and family members of the late priest gathered to celebrate his life.


Plush mansion where ex-First Lady Theresa Kufuor will be buried

The final journey of former First Lady Theresa Aba Kufuor begun on Thursday, November 16, 2023, in Accra when a Requiem Mass was held in her honour at the Christ the King Catholic Church.

A state funeral was subsequently held at the Forecourt of the State House in Accra on Friday before her body was conveyed to Kumasi for a final traditional funeral and burial on Saturday, November 18, 2023.

The traditional funeral was held at the Heroes Park in Kumasi following which a private burial was held for the wife of former President John Agyekum Kufuor at a private residence of the former first family in the Ashanti Regional capital.

Watch video of plush mansion where ex-First Lady Theresa Kufuor was buried


Ghana's leading digital news platform, GhanaWeb, in conjunction with the Korle-Bu Teaching Hospital, is embarking on an aggressive campaign which is geared towards ensuring that parliament passes comprehensive legislation to guide organ harvesting, organ donation, and organ transplantation in the country.

NAY/AD