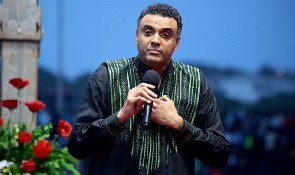 Bishop Dag Heward-Mills, founder and Presiding Bishop of the United Denominations Originating from the Lighthouse Group, brought his experience in building and architecture to bear in one of his letters to the Executive Director of the National Cathedral project.
In a letter dated June 22, 2022, and written on the letterhead of the Ghana Charismatic Bishops' Conference, Heward-Mills lamented about corporate governance issues and instances of sidelining of the Board of Trustees in key decisions around the project.

In addressing the subject of the way forward for the project, he advanced that building the cathedral at the estimated cost of US$350 million was attainable especially because the trustees were originally supposed to raise only 3% of the total sum.

Call to review cost and design of project

He emphasized that the challenges with raising necessary funding meant that the project design and cost needed to be reviewed.

"I suggest that the design of the National Cathedral be overhauled to make it possible to build it under our present circumstances. The design can be made to look almost exactly as it has been presented by Sir David Adjaye and just as the president has approved.

"Many design details can be made to make this Cathedral buildable and affordable. I would personally offer to engage and discuss with these consultants if my services are needed or wanted.
"The cost of the National Cathedral Project should be completely overhauled. Instead of building a USD350m church, I suggest that the Cathedral should be built at a fraction of this cost.

List of major buildings built at less than US$350m

Heward-Mills also listed a number of public buildings that had been built at a fraction of the US$350 million dollars the Cathedral was estimated to cost.

"You will recall that I pointed out that many of the huge projects in Ghana including Villagio, Ecobank Headquarters, Jubilee House, Ministry of Defense, Airport Terminal Three, National Theatre, One Airport Square and Accra Mall; have been built at a fraction of the amount we are quoting for the Cathedral.

"From my experience in building, we can still build the Cathedral at a fraction of the cost. The cost of USD350m by the church is unattainable, indeed our Executive Director has told us we are expected to raise only 3% of the money," he stressed.

Heward-Mills officially resigns as trustee
Two months after his letter, Heward-Mills tendered his resignation as a trustee of the project stressing that he still believed in the project and will consider returning if concerns he had raised were addressed.

The resignation letter handed in last year was only recently leaked to the media.

In it, he emphasized that he believed in the project and the vision of the president and was ready to support it in any way to see it to its fruition.

SARA/IA