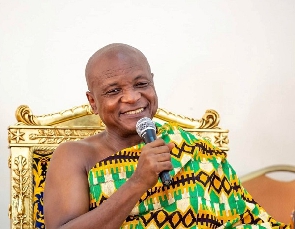 Businesses could miss out on the opportunity to be competitive in the Africa Continental Free Trade Area (AfCFTA) market due to exorbitant interest rates, founder of SAS Group of Companies and Agbogbomefia of the Asogli State, Togbe Afede XIV, has said.
With access and cost of capital ranking high among businesses' major challenges, particularly for small and medium-scale enterprise (SMEs), he warned that the envisioned outcomes of prosperity and higher economic growth on the back of the free continental trade area could be missed unless immediate steps are taken to remedy the situation.

"Interest rates in Ghana are too expensive," the traditional leader and business mogul lamented, adding: "When countries lend to businesses at lower rates it stimulates growth. The Monetary Policy Committee (MPC) of the central bank in January this year raised the policy rate by 100 basis points to 28 from the previous 27 percent. So, when other countries were lowering their rates we were increasing ours to overburden businesses; and that is the rift in competitiveness, because local businesses cannot afford to borrow at those exorbitant rates."

Indeed, while interest rates in other AfCFTA member-states are in single-digits, Ghana's is brazenly at an average 36 percent – which many market watchers believe could make domestic companies uncompetitive within the free trade zone.

The Agbogbomefia added that he cannot fathom why interest rates in Zambia, Liberia and Sierra Leone, among others, could be so much lower than in Ghana over the years. At the current rate, he said it will make businesses from such countries more competitive than Ghanaians competing in the same market with similar products.

He said it is particularly disheartening that SMEs which are already struggling to scale-up for the AfCFTA market in the face of current economic crisis are expected to be hit harder by increases in borrowing costs due to recent hikes in the policy rate, a situation that he says has the potential to dampen confidence.

"I think this is the biggest problem our businesses are facing. It is affecting the manufacturing sector and commerce while the banks are making more profits; even in the era of COVID-19, the banking sector profits still went up. It is taking government's debt exchange programme to see banking sector profits go down for the first time," he said.
Togbe Afede XIV made these remarks at the press launch for the 53rd General Assembly of the World Trade Centre (WTC), which is to be held in Accra-Ghana between April 23rd and 28th 2023, and called for deliberate plans to make lending cheaper for businesses – particularly those in the country's strategic industries.

WTC General Assembly

The Annual General Assembly of WTC is the biggest event on the organisation's calendar, and will bring together representatives and business delegations from all the 100 WTCs worldwide.

The theme for the 53rd edition is 'Toward African economic integration and enhanced global presence'. A delegation from 14 African countries – including four from sub-Saharan Africa and 80 others from other continents – will be present to highlight Africa's unique trade opportunities touted as the world's next economic frontier.

Director of Member Services-WTCs, Crystal Edn, in her address mentioned that the prominent gathering will create a platform to collectively deliberate and find solutions to change the narrative of African economies, and make them relevant to the global economy through increased industrialisation and value addition to natural resources.

Deputy Namibian High Commissioner, Eveline Hanson, on her part indicated that the Namibian government is excited to be part of the first WTC AGM being held in Africa, as it hopes this will lead to creating partnerships which will bring in investment funds to promote the country's development.