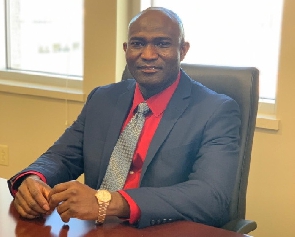 Dr Sa-ad Iddrisu, a United States-based economics lecturer, has issued a passionate plea to Ghanaian historians, urging them to meticulously document a series of pivotal events in the nation's history.
These events, marked by controversy, offer valuable insights into governance, human rights, and political developments that have significantly impacted Ghana's recent past.

In a Facebook post, Dr Sa-ad Iddrisu highlighted the importance of preserving these historical moments for posterity.

He enumerated several of these events:

Protesters' Plight: On September 21, 2023, a peaceful demonstration took place, with citizens voicing their opposition to government policies.

Tragically, this peaceful protest was met with arrests and mistreatment by the Ghanaian police.
Even journalists, including Bridget Otoo, who were present to cover the event, faced harsh treatment.

These unfortunate incidents unfolded under the leadership of President Nana Akufo-Addo and the oversight of Inspector-General of Police, Dr George Akuffo Dampare.

Techiman South Tragedy: During the 2020 elections in the Techiman South Constituency, located in the Bono Region, a tragic event unfolded.

Some individuals lost their lives due to gunfire by Ghanaian military personnel.

This heart-wrenching incident occurred during the tenure of President Nana Akufo-Addo, a prominent human rights lawyer.
Parliamentary Intrusion: On January 7, 2021, Ghana's parliament faced an unprecedented situation when soldiers intervened in a dispute involving Members of Parliament from the National Democratic Congress (NDC) and New Patriotic Party (NPP), mere hours before President Nana Akufo-Addo's inauguration for his second term.

This episode was seen as a challenge to Ghana's democratic principles.

Ministerial Scandal: A significant case of corruption came to light during President Nana Akufo-Addo's administration, involving the theft of over $1 million in cash from the residence of an NPP minister. Subsequent investigations conducted by the government-appointed special prosecutor, Kissi Agyebeng, uncovered further corruption involving the minister, Madam Cecilia Dapaah.

Oil Fields as Collateral: Dr Iddrisu stressed the importance of not overlooking the NPP government's intention to use ten of the country's oil fields as collateral for a $431 million loan, primarily designated for the 2024 election campaign.

This move raises concerns about the financial burden it would place on future generations, particularly considering the significant debt accrued under this administration.
Agyapa Gold Royalties Deal: The controversial Agyapa gold royalties deal, designed to transfer Ghana's future gold revenues to individuals with close ties to President Nana Akufo-Addo, also merits meticulous documentation.

Dr Sa-ad Iddrisu emphasised that these events collectively underscore a perception of the NPP administration embroiled in allegations of corruption, abuses of power, and administrative lapses.

''The call for historians to carefully record these occurrences seeks to ensure future generations have an accurate account of human rights violations and questionable deals that transpired under President Nana Akufo-Addo's leadership," he posited.

Furthermore, he highlighted that this call transcends political affiliations, urging citizens to unite against injustice and economic mismanagement.

Dr. Iddrisu emphasised the essence of patriotism, quoting Theodore Roosevelt, which involves supporting effective leaders while holding them accountable when they fall short.
Voting for the NDC and John Mahama, he argued, presents a rational choice to address concerns and promote transparency and accountability in Ghana's governance.

''It serves as a call to action for all Ghanaians to participate in shaping their nation's future through free and fair elections in 2024," he concluded.