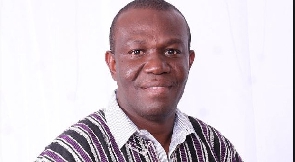 Member of Parliament for Ho West Constituency Emmanuel Kwasi Bedzrah has denied writing to the Speaker of Parliament to resign.
He says he had only told his "colleagues" that he would leave the National Democratic Congress (NDC) if the right things were not done as regards the upcoming constituency elections.

The issue, he narrated on 3FM's morning show, Sunrise, had to do with a message on social media circulated by his constituency's executives about the suspension of Saturday's elections.

That is what engendered his blurting out that he would resign if some grassroots members were not given a fair chance of hearing.

"By the grace of God, the right thing was done [on Tuesday]," he indicated.

The Minority in Parliament on Tuesday was locked up in a crunch meeting over the reports of Mr Bedzrah's resignation but it appears the issues were amicably settled.
But Mr Bedzrah, who is the Ranking Member on the Government Assurance Committee, accused NDC's National Organiser Kofi Adams as part of the problems brewing in his constituency.

He said his style of politics is not for personal gain.

"I am not into this game because of personal interests," he stated.

"We are in it to serve the people."