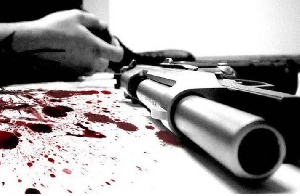 Authorities at the Sampa Government Hospital have reported a patient, who sustained gunshot wounds, to the police.
The patient, Saar Kofi Francis, 22, went to the hospital with gunshot wounds on 6th April 2018 for treatment.

The authorities at the health facility called the police to inform them about the presence of a patient with gunshot wounds.

The police proceeded to the hospital and saw Saar with chest and stomach wounds.

When quizzed by the police, he said he was shot by one Kwame Nkrumah in a farming community called Kabree, near Sampa.

The police proceeded to Kabree and arrested the culprit, Kwame Nkrumah.
Kwame initially denied shooting Saar but admitted the offence after further interrogations by the police.

According to him, he shot Saar because he stole cashew nuts belonging to their sister.

The suspect added that he did not see anything wrong with shooting his nephew, who was misbehaving.

He was subsequently arrested and when his room was searched a locally manufactured pistol with a discharged BB shell in the chamber was retrieved.

The police also retrieved a single barrel gun and a jackknife in the room of the suspect.
Saar was given a police medical form to continue his treatment at the hospital.

Regional Police PRO, Chief Superintendent, Kinsley Oppong confirmed the incident to DAILY GUIDE in an interview.

He said Kwame Nkrumah had been detained to help the police in their investigations.