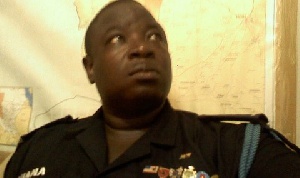 ASP Samuel Azugu is in the news again, this time for being commander of the masked SWAT team that visited mayhem on civilians during the Ayawaso Wuogon By-election in Accra.
Many social media users trolled the policeman for his inconsistent account to the Short Commission of Inquiry, labeling some of his narrations as ridiculous.

It is however emerging that the Agogo feud between Fulani herdsmen and the residents of Agogo was fueled by the same ASP Azugu when he was Asante Akim-North District Police Commander.

ASP Samuel Azugu was relieved of his post following worsening security crisis involving the nomadic herdsmen as he was accused of defending the herdsmen and giving them heads up as he himself owned cattle which was in the care of the herdsmen.

He was hence transfered. The community leaders at Agogo in the Asante Akim North district of the Ashanti region at the time said they have lost confidence in the police commander who is still in trouble over his SWAT team leadership.
During the Agogo crisis, the MP for the area, Andy Appiah-Kubi, accused commander Azugu of being complicit in the security crisis that claimed the lives of several people on both sides.

"The District Commander is inciting the herdsmen against our people. We have evidence that the herdsmen bring him beef. The commander also has cattle which the herdsmen are rearing for him," the NPP MP said.

"Even dogs here in Agogo don't want to work with him. He didn't help us. He could not help us," the MP told Nhyira FM's Ohemeng Tawiah.