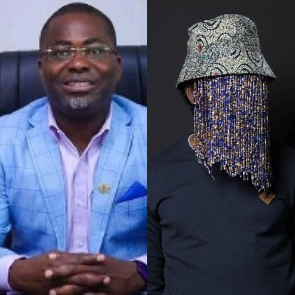 The former secretary to the dissolved Inter-Ministerial Committee on Illegal Mining (IMCIM), Charles Bissue, has narrated how a former justice of Ghana, inspired him to take on renowned investigative journalist Anas Aremeyaw Anas.
According to him, a conversation he had with the judge, who was once a victim of Anas, inspired him to do all it takes to stop the investigative journalist, 3news.com.

He added that the judge's story of how Anas entrapped him and made him lose his dignity and career made him vow to fight back.

"When I started my case, I had a call from a former judge in the Volta Region who has also become a victim of Anas' insidious work, declaring his support for me.

"According to him, monies were placed on a table in front of him. He refused whatever they wanted to offer him. The money was then taken away. Unfortunately, Anas captured the bit where the money was in front of him and left all the other conversations but with the narrative that he is a corrupt judge," he said.

Bissue, who is reported to have made these remarks on Takoradi-based Radio 360, said that he asked the judge why he was not fighting back and the judge told him that he had to abandon his case because he spent a huge amount of money on lawyers.
He added that the ex-judge has now been left impoverished to the point where he can no longer afford medication to treat his illness.

"He told me I will be shocked if he told me how much he had spent on lawyers trying to clear his name. I've spent thousands of cedis. He told me that the shock he had from the news of Anas' work has left him with hypertension. He now struggles to buy his medicine because his finances have been badly impacted. Why should that happen?" he asked.

Bissue, a former presidential staffer, vowed to continue to fight till he gets justice in his case with Anas.

"I want my case to be an example. People come to office either to serve or use the power to lord over others. I came to serve. And for anyone who came to serve but has been wrongly implicated, I want to use my case to offer them hope. I want to use my case to cause a cessation of this unfortunate situation that often scares good people with the right expertise and intent from taking public appointments."

BAI/WA
You can also watch GhanaWeb news headlines in Twi here



Ghana's leading digital news platform, GhanaWeb, in conjunction with the Korle-Bu Teaching Hospital, is embarking on an aggressive campaign which is geared towards ensuring that parliament passes comprehensive legislation to guide organ harvesting, organ donation, and organ transplantation in the country.

You can also watch the latest episode of Everyday People on GhanaWeb TV below:




Watch the latest episode of The Lowdown on GhanaWeb TV below: