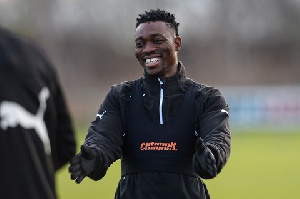 Some Ghanaian politicians have reacted to the news of Ghanaian winger, Christian Atsu's death.
His death was announced and confirmed by his agent Nana Sechere this morning on his Twitter page.

"It is with the heaviest of hearts that I have to announce to all well-wishers that sadly Christian Atsu's body was recovered this morning.

"My deepest condolences go to his family and loved ones. I would like to take this opportunity to thank everyone for their prayers and support," read his announcement.

Black Stars' midfielder, Christian Atsu has been missing for 12 days since he got trapped under rubble following a 7.8 magnitude earthquake that struck Syria and Turkey on February 6, 2023.

The president of the Republic of Ghana, Nana Addo Dankwa Akufo-Addo is one of the politicians who has reacted to the sad news of Christian Atsu's death.

"The LORD gave, and the LORD hath taken away"… Job 1:21
On behalf of the Government and people of Ghana, I extend sincere, heartfelt condolences to the widow, children and family of our fellow Ghanaian, Christian Atsu, on the sad news of his death. Ghana football has lost one of its finest personnel and ambassadors, one who will be difficult to replace. He will be sorely missed.

"May his soul rest in the Bosom of the Almighty until the Last Day of the Resurrection when we shall all meet again. Amen!" he wrote on his Facebook wall.

The Minister of Information and MP for Ofoase-Ayirebi constituency, Kojo Oppong-Nkrumah also said, "Sad sad sad development."

Another politician who has also reacted to the news is political activist, A Plus who shared a picture of Christian Atsu accompanied with Ed Sheeran's 'Visiting Hours' and five heartbreak emojis.


It is with the heaviest of hearts that I have to announce to all well wishers that sadly Christian Atsu's body was recovered this morning

My deepest condolences go to his family and loved ones. I would like to take this opportunity to thank everyone for their prayers and support

— Nana Sechere (@iAmNana7) February 18, 2023
In a nervous state, we were hoping for the best of news. Now, we are a nation in grief, following news of the tragic demise of our illustrious son, @ChristianAtsu20 .

My deepest condolences to his widow, family and friends.

Rest in peace, Christian ???????? pic.twitter.com/FlTMRqNgwG

— Dr. Mahamudu Bawumia (@MBawumia) February 18, 2023
Sad sad sad development. https://t.co/KNYuSJaGo7

— Kojo Oppong Nkrumah (@konkrumah) February 18, 2023
It is with the heaviest of hearts that I have to announce to all well wishers that sadly Christian Atsu's body was recovered this morning



A well loved and celebrated footballer and philanthropist,legendary player, gone! Our deepest sympathies to his beloved family, friends, colleagues and the good people of Ghana! RIP! #ChristianAstu pic.twitter.com/hbLkH5tuWJ

— Joyce Bawah Mogtari (@joyce_bawah) February 18, 2023





My heartfelt condolences to the wife, children, family, and the entire football fraternity on the loss of the international legend, Christian Atsu.

Rest on, Atsu. You were a source of pride. pic.twitter.com/hTqAuMStx0

— Alan John Kyerematen (@AlanKyerematen) February 18, 2023





Terrible News!

My Condolences to the Family! pic.twitter.com/ie18S5m1wv

— Cassiel Ato Forson(PhD) (@Cassielforson) February 18, 2023





This is not the news we wanted to hear. At this time, we send our condolences to the family and loved ones.

Rest in peace, Christian Atsu ???? pic.twitter.com/qocAY6bv9w

— Professor Naana Jane Opoku-Agyemang (@NJOAgyemang) February 18, 2023





I am struck with awe and sadness over the news of the death of our kith and kin, Christian Atsu.

I've prayed and hoped that like the many others who were found alive under the trapped rabbles, he'll also be found alive, but that was not to be. pic.twitter.com/YmeoeIXYO5

— Hon.Ken Ohene Agyapong (@honkenagy) February 18, 2023



ABJ/MA