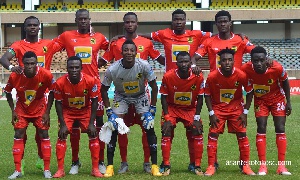 Of all the assets Asante Kotoko boasts of as Ghana's biggest and most successful club, none beats its massive fan base. Absolutely none.
Oh, the rich, age-old royal ties?

Or the sparkling, almost bursting trophy cabinet?

Neither, I say; it's always been the fans. Time and again, Kotoko's ever-reliable cavalry has charged forth to drag the club through the most daunting challenges and, even after 83 years, doesn't seem to have tired one bit. On Saturday — a day when Kotoko's home city of Kumasi has no shortage of social functions to attend, while the larger Ghanaian populace rushes through last-minute Christmas shopping — fans of the Porcupine Warriors braved crazy traffic from far and wide to watch their beloved club play the second leg of their 2018/19 CAF Confederation Cup qualifier against Kenyan upstarts Kariobangi Sharks.

Prior to the game, club officials had rallied massively for a huge turnout, but even they might have been a tad overwhelmed by the figures recorded at the turnstiles. The Baba Yara Stadium, for the umpteenth time, was drenched in red as far as the eye could see. Empty seats there were, of course, but that wasn't unexpected.

Times are hard, and especially when prices charged for the day's tickets are supposedly the highest ever in Ghanaian club football, more couldn't have been asked for. But that's the thing about Kotoko fans: they'd turn up massively, dig as deep into their pockets as is required, and shout themselves hoarse just to get their club over the line.
And over the line Kotoko got on this occasion, albeit not without some difficulty. With a barren first leg in Nairobi a week ago leaving the tie so delicately balanced, Kotoko stood the risk of being eliminated from continental action in a manner that had already been experienced twice in this decade. Things got even more unsettling when Sharks bit back not long after Kotoko opened the scoring.

A fair few fans shifted uneasily in their seats, but nerves must have grown more frayed when captain Amos Frimpong stepped up to convert a penalty to restore Kotoko's lead. Those fears, if they indeed arose, were justified; Frimpong, after all, was one of three who incredibly missed from the spot when Kotoko hosted their last Confederation Cup game in February this year.

Not to worry, though; the skipper clinically dispatched the ball this time and dismissed those concerns with ease. Kotoko held on, with Kenya's cup holders failing to muster a second rebuttal that would surely have broken many hearts. At full time and with the job done, the fans — some of whom had parted with a little extra cash for official merchandise at a shop just north of the venue — rose in one giant eruption, chanted their last, and marched out with enough good cheer to last them through the festive season, ahead of the December 28 draw to determine Kotoko's next opponents in Africa.

This, no doubt, was a victory by the fans for the club — as always.