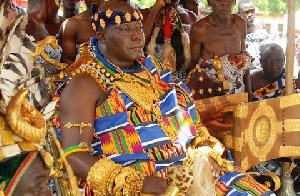 Otumfuo Osei Tutu II, known in private life as Nana Barima Kwaku Dua, is marking his 20th anniversary as the Asantehene and occupant of the Golden Stool.
When Otumfuo Opoku Ware II died in 1999, Nana Barima Kwaku Dua, now Otumfuo Osei Tutu II, was not the legitimate person in line as successor to the deceased ruler but somehow, things fell in his favour.

In the tradition of Asante, until the line of elderly males to the deceased ruler has been exhausted, responsibility does not transcend to nephews.

Akwasi Agyemang was a cousin to Otumfuo Opoku Ware II, and the only male in line to succeed him at that time.

Indeed, Akwesi Agyemang lived the most part of his life in the knowledge that he was well placed to lead Asante after the demise of his brother (really, his cousin, since Opoku Ware II was the son of Agyemang's aunt).

Agyemang was reportedly excited at the mention of the name Daakyehene (future ruler) because by birth, it was his rightful position.

However, Akwasi Agyemang's personal life and record made it impossible for him to be deemed fit for that position.
Hence, Nana Barima Kweku Dua, who had the extra advantage of being one of the five children of the late Nana Afia Kobi, the Queenmother of Asante, became the ruler of Asante.

The Queenmother by tradition elects rulers for the Asante.

Akwasi Agyemang's inability to ascend to the throne was a big blow to him. Before the 1979 coup d'état, he was the Chairman of the Kumasi Metropolitan Assembly (KMA).

And as part of activities that characterised the coup, key people were arrested and given all sorts of treatment as punishment.

Akwasi Agyemang was arrested as part of the revolution cleansing. But being overtly political was very much frowned upon for members close to the stool in the Asante royal family.

In view of this, it dented his reputation to some good extent. As part of his punishment, the revolutionary soldiers forced Akwasi Agyemang to carry human waste in a bucket in public.
It was as much a taboo for an heir apparent to carry anything at all, much more human waste. As fate would have it, Akwasi Agyemang later become a close friend of Jerry John Rawlings, the leader of the 1979 coup.



He also became an influential leader of the opposition National Democratic Congress (NDC) and when Ghana went into a constitutional rule again in 1992, Rawlings made him the boss of KMA.

The NDC was already an unpopular party in the Ashanti Region but Agyemang's era as KMA boss was also marked by violence and intimidation against political detractors.

He was- for instance- accused of leading a demolition exercise that vandalised properties of squatters while some of them were still indoors reportedly killing scores of people in the process.

Indeed, no KMA boss before or after Akwasi Agyemang has been accused of anything close to his level of violence and intimidation.
It is known that at a point, all 46 assemblymen within the jurisdiction of the KMA, signed a resolution not to work with him again due to how he administered his office.

Interestingly, Akwasi Agyemang was affectionately called Okumkom, meaning "the killer of hunger."

This showed that the people had a rather love-hate relationship with him.

But Agyemang's conduct made things quite easy for the Queenmother Afia Kobi Ampem.

As the final arbiter in who becomes chief, the Queenmother thought his son, Kweku Dua, was a better fit. Kwaku Dua had after all, spent most part of his life preparing for such a moment and never faulted, at least to the knowledge of the public.

As part of preparing Kweku Dua for such a moment, he was taken to Sefwi Wiaso instead of the prestigious Prempeh College or Opoku Ware Secondary School, purposely to undergo training under the tutelage of Sefwi Wiaso.
When it became apparent that Kweku Dua was going to be the next ruler of the Asante, Akwasi Agyemang reportedly tried to overturn the events.



With suspected threat on the life of Kweku Dua, the then Regional Minister in Ashanti, Kojo Yankah, acted swiftly and deployed military men for Kwaku Dua's protection until his coronation.

Defeat to the NDC in the 2000 election effectively ended Akwasi Agyemang's influence and for 20 years, Kwaku Dua has ruled effectively and successfully as Otumfuo Osei Tutu II.