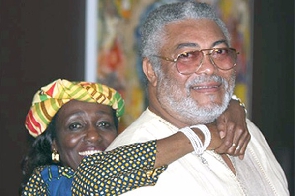 The wife of Ghana's first president in the fourth republic, Jerry John Rawlings, has recalled her early love days with her late husband, and how, once, he was made to clean windows and wash cars at her house.
In the ninth chapter of her book, It Takes A Woman, Dr. Konadu Agyeman-Rawlings spoke about how all of these happened the very first day Jerry Rawlings decided to visit her at home.

According to her narration, she had returned home from school at Achimota with excitement, hopeful that she would get to enjoy some good rest after what she described as "an arduous term in school."

Things didn't turn out quick as such for her because, "I was soon reminded that the romanticism of home-life was slightly more ethereal than real. In our home, in spite of the holidays, some things never changed. Saturday mornings were always reserved for general house-cleaning: sweeping, washing, gardening, kitchen chores, tidying the dining room, sitting room, and bedrooms."

And so, she added, that was what she was all about until there was a ring at the door.

Dr. Nana Konadu Agyeman-Rawlings narrated further that she wanted to get the door but was beaten to it by her mom.
At the door, noticing it was the young Jerry John Rawlings, she tried to eavesdrop on whatever conversation her mother would have with him.

The following is the conversation she said her mother had with Rawlings:

"Good morning, Madam," he said, greeting Maa with a pleasant smile.

"Morning," Maa replied, her expression straight-faced and forbidding.

"Sorry to disturb you, Madam. My name is Jerry John. I attend Achimota, and I am looking for Nana Konadu. We are friends from school, and I just want to say hello… please."
"Young man, Konadu is busy doing her housework. You wouldn't want to disturb her, would you?"

"No, no Madam, not at all."

"Good. Then I'll tell her you were here," she said as she gestured to close the door.

"Madam… Please… can I wait?"

"Wait? For what?" she snapped, visibly taken aback by his determination.
"For her to finish," he smiled, pleading with his eyes.

"Young man, in this house, there is no time to chat on Saturday mornings."

"Yes Madam," he replied, and then quickly added, "Madam, I can also help clean around the house."

"Young man, what did you say your name was?"

"Jerry John… Madam."
"Remove your cap!" she ordered and walked him outside around the house.

At this point, Dr. Nana Konadu Agyeman-Rawlings recalled what her mother told her that she had told Jerry to do.

"I told him to clean all my French windows, which he did – and cleaned then beautifully. After he was done, he asked politely for permission to leave, knowing Konadu and her sisters were still working. But he came again."

AE/KPE