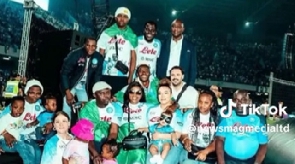 Nigerian international Victor Osimhen reportedly flew over 20 people from Nigeria to join him for the celebration of Napoli's first Serie A title in 33 years.
Osimhen, an influential part of Luciano Spalleti's team was also voted the best striker of the season becoming the first African to win the Golden Boot as well.

According to a video sighted by GhanaWeb, a journalist who is very close to Osimhen shared the story of how the player flew over twenty people from Nigeria to join him at the Diego Maradona Stadium in Naples over the weekend when the club formally received their trophy.

Oma Akatugba said: "He invited over 20 people from Nigeria, brothers, sisters, friends, his former coach and what have you. When I talk about friends, these are people who know Victor Osimhen, better than you and I.

"People who grew up with him in the trenches, the ghettos. People who where there with him through thick and thin…"
Osimhen scored 31 goals including the May 4 goal that secured Napoli a draw at Udinese and also the league trophy for the first time in 33 years.

Osimhen has been one of the most influential players for the new Scudetto winners, as he was seen celebrating with his colleagues on the pitch and in the dressing room after the game.

Listen to the story below:


Victor Osimhen is the BEST, he didn't forget where he came from.

Imagine flying his family and close friends to Napoli, making sure they're allowed onto the pitch to take pictures with the Scudetto trophy.

Even when he saw Nigerian journalist @omaakatugba, he made sure he took… pic.twitter.com/Zbz0PkILd8

— SportsDokita (Odogwu ☝️) (@Sports_Doctor2) June 6, 2023