How did Kusi Boateng get a TIN in 2013 when the law was enacted in 2016? – Presidential staffer to Ablakwa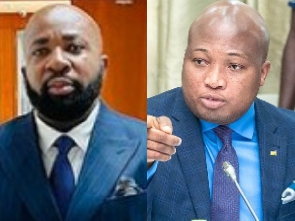 Charles Nii Teiko Tagoe, an executive assistant and head of social media at the Office of the President, has punched some holes into the allegation made by the Member of Parliament (MP) for North Tongu in his latest corruption exposé on the National Cathedral which implicated Rev Victor Kusi Boateng.
According to Samuel Okudzeto Ablakwa, Rev Kusi Boateng has been operating under the pseudonym Kwabena Adu Gyamfi for criminal purposes.

He alleged that the clergyman had two Tax Identification Numbers, one in the name of Kwabena Adu Gyamfi and the other in the name of Victor Kusi Boateng.

"On the 13th of August, 2013 when he filled his Taxpayer Registration Form at the GRA under the name Victor Kusi Boateng with a date of birth of September 7, 1971; he declared that his mother's maiden last name is Ataah, and her first name is Agnes.

"He was subsequently given a Taxpayer Identification Number for his Victor Kusi Boateng name as P0002502682.

"Curiously, on the 24th of March, 2016 he returned to the GRA, this time with the name Kwabena Adu Gyamfi and a date of birth of December 30, 1969. He strangely declared a different biological mother with a maiden last name of Gyamfua and a first name of Yaa.
"This is how he secured another TIN — P000627241X," parts of a post shared by Ablakwa on social media read.

Reacting to this, Nii Teiko Tagoe asked the MP to explain how Rev Kusi Boateng got a TIN in 2013 since the law that mandates the Ghana Revenue Authority to maintain a taxpayer numbering system was enacted in 2016.

"Dear Samuel Okudzeto Ablakwa, can you explain to us how Rev. Victor Kusi Boateng acquired Taxpayer Identification Number (TIN) P0002502682 in the 2013 when the law that established the Taxpayer Identification Number (TIN) (was enacted in 2016)," parts of the tweet read.

According to the GRA, Section 10 to 12 of the Revenue Administration Act 2016, (Act 915), authorizes the Commissioner-General of the Ghana Revenue Authority (GRA) to maintain a Taxpayer Identification Numbering System of people who are liable to register and pay tax to the state.

View the presidential staffer's tweet below:
Dear Samuel Okudzeto Ablakwa,

Can you explain to us how Rev. Victor Kusi Boateng acquired Taxpayer Identification Number(TIN) P0002502682 in the 2013, when the law that established the Taxpayer Identification Number(TIN), Section 10 to 12 of the Revenu… https://t.co/BJOUli3bqN pic.twitter.com/ehraPCvQI5

— Charles N.T. Tagoe (@royaltcafe2012) January 21, 2023
IB/FNOQ