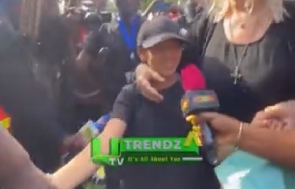 A journalist with a local TV channel has roundly been condemned for being insensitive in the line of her job.
Her question, 'how do you feel?' directed at the young son of late footballer Christian Atsu quickly went viral on social media platforms as people accused her of lack of discretion and outright unprofessionalism.

The reporter was captured putting her microphone to the boy as the Atsu family returned to their sitting area at the forecourt of State House where the former footballer's final funeral ceremony took place on March 17.

The boy spotted a smile at the question even as he was whisked away from the microphone as reporters retreated.

The boy had just together with his mother and aunt, Atsu's twin sister, read a tribute and laid a wreath before returning to their seats.

One of the ardent critics happened to be actress Lydia Forson, a close friend of the deceased.

"Funerals are not concerts or for entertainment! Reporters should learn some decorum in how they cover and engage with mourners! How do you ask someone if they're "sad"?!

"And shoving cameras in peoples faces and not giving them even a moment of privacy. Like?!!" Forson's tweet of March 17 read.
Christian Atsu's funeral

The March 17, 2023 final funeral rites of Christian Atsu attracted people from all walks of life as the forecourt of the State House buzzed with activity.

President Nana Addo Dankwa Akufo-Addo and his vice were in attendance along with a high-powered government delegation. Also in attendance was the former president John Dramani Mahama.

The Ghana Football Association (GFA) was led by its president Kurt Okraku who also led members of the association and a group of former Black Stars players.

Atsu died in the February 6 earthquake that struck Turkey and parts of Syria. He was declared missing till his remains were recovered on February 18.

Read more reactions below:


"How do you feel?" Adom tv deirr ???????????????????? pic.twitter.com/jH25yzlf6k

— Travxxxxxxxxxxx ???????? (@TravisMorgan007) March 17, 2023
How do you feel? Sɛsɛn?

In which world is it appropriate to try to interview such a small boy who probably doesn't even understand what is going on? This is just sickening. Ghana media sit up! @adom_tv @Adom1063fm

Christian Atsu #RIPAtsu ????????????❤️‍???? pic.twitter.com/U5ucbxPid4

— Kwaku Whetstone ???????? (@longmanghana) March 17, 2023
That Adom tv journalist who asked Atsu's child "how he feels ",I don't have any word for him/her. Small small Everybody will know the level of journalism in this part of the world.

— AYEDUASE PULISIC (@quame_age) March 17, 2023
Dear @adom_tv

Who is the female journalist at the funeral of Christian Atsu who thinks it is appropriate to ask a little boy who has come to bury his father "How do you feel?"

Like SERIOUSLY! ????????????

The need for an exclusive story doesn't mean negating ethics and empathy. pic.twitter.com/NJtDbQ3Aho

— Sarah Adebambo (@sarah_adebambo) March 17, 2023
Adom TV journalist had the effrontery to ask someone who has lost his father how he feels…

The kind of journalism in Ghana right now pic.twitter.com/2gazVwyQW3

— ????????god Amongst Men (@officiallordy) March 17, 2023
This is only not unprofessional, but an extremely stupid behavior from this @adom_tv reporter. How on earth do you put a microphone to the mouth of a boy who is mourning his father?

Rest well Atsu. pic.twitter.com/DGcloBULKQ

— Bismark Aryee (@kwaku_aryee) March 17, 2023
Watch the latest episode of The Lowdown below:
Meanwhile, catch up on the concluding part of Francis Addai-Nimoh's interview on GhanaWeb TV below: