How does Dame feel working with Kusi Boateng on national cathedral after damming court verdict? - Ablakwa asks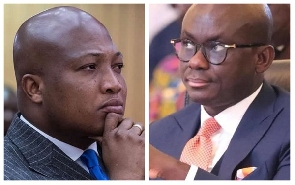 The Member of Parliament for North Tongu, Samuel Okudzeto Ablakwa, has taken a swipe at the Attorney General and Minister of Justice, Godfred Dame over his lack of action against the National Cathedral of Ghana, Rev Victor Kusi Boateng.
In a tweet shared on Monday, July 17, 2023, Ablakwa wondered why Dame has not taken action against Kusi Boateng even though a court has stated that he (Kusi Boateng) having a dual identity borders on criminality.

He asked the attorney general how he felt working with Victor Kusi Boateng on the board of the cathedral even after the judgement of the court.

"How does Godfred Dame feel sitting on the Board of the National Cathedral with Victor Kusi Boateng/Kwabena Adu Gyamfi particularly after a damning Human Rights Court Judgement that the latter's conduct borders on criminality?

"Where's Dame's conscience as he persecutes Quayson?" he questioned.
The MP shared supposed documents of the registration of the National Cathedral which should both Kusi Boateng and Godfred Dame listed as members of the board of trustees of the cathedral.

An Accra High Court ruled that there is a lack of transparency and elements of criminality in the way and manner Rev. Victor Kusi Boateng is operating separately as Kwabena Adu Gyamfi.

In a summary of the court's ruling available to GhanaWeb, besides the fact that two separate personalities are proven, it held that "the way the two identities were used does not suggest a simple case of two different names, but rather two independent and totally separate identities to conceal applicant's dealings in a manner that was not obvious, until the investigations and publications of 1st Respondent."

The applicant in this case was Victor Kusi Boateng who approached the court to cause the respondent (Member of Parliament for North Tongu, Samuel Okudzeto Ablakwa) to stop making critical publications about him.
The court added: "Applicant's assertion that the use of two names in the manner he has done is not a crime under our laws is misconceived, as the two identities were used in a pattern of duplicity depicting a lack of transparency and this conduct borders on criminality."

Kusi Boateng, the Secretary and Board of Trustee member of the National Cathedral project, has by the ruling been dealt a second blow in his ongoing court battles with Ablakwa.

The first loss was related to an application for Ablakwa to be held in contempt of court for disrespecting the courts when he kicked a summons that was being served on the lawmaker.

Ablakwa on July 13 published portions of the summary of the court's ruling declaring it a "legal victory to the masses who have kept me resolute with their prayers and support for transparent and accountable governance."
View Ablakwa's tweet below:


How does Godfred Dame feel sitting on the Board of the National Cathedral with Victor Kusi Boateng/Kwabena Adu Gyamfi particularly after a damning Human Rights Court Judgement that the latter's conduct borders on criminality?

Where's Dame's conscience as he persecutes Quayson? pic.twitter.com/6QYhRDiNjq

— Sam Okudzeto Ablakwa (@S_OkudzetoAblak) July 17, 2023
BAI/OGB
Watch the latest episode of The Lowdown: