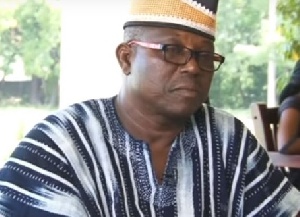 Tue, 20 Jun 2017 Source: Mohammed Balu
The state funeral planned for the Army officer who lost his life after being labelled as thief and lynched in Denkyira Obuasi has brought the Sissala community and the public in getting up close about the family that is hit by this unfortunate tragedy.
After the last lap of the funeral rite in Tumu and Yigantu by the family, Rtd Captain Dennis Mahama after returning from his community spent three hours with RadfordFM where he gave a fairy tale of how he lived without a father at the tender age of three until after three decades, he reunited with his biological father.

Below is an excerpt of the in-depth interview he had with RADFORDFM.

"I got to know Sissala land in my mid-thirties. The story is that my father is one of the earliest persons who travelled down south at a tender age.

He settled in Bole. Whilst there, my mother had been married to a chief but she was been maltreated, so her father took her back.

Whilst staying with her father, my father saw her and they became lovers and eventually she got pregnant. Fearing for his life for my mother is the daughter of a chief, they both bolted to Kpandai.

My grandfather asked my mother to return through a cousin but my mother had delivered me and pleaded for more days to come over.
So they fled Kpandai to Accra after noticing their new whereabouts. They settled in Mamobi. Unfortunately, my mother's father died and she was needed back home in Bole.

My father was still afraid, for fear he won't have me again so my father secretly took me to Madina in Accra where I was given tribal marks by a Sissala woman to show I am a Sissala so that in case I don't return, my identity will not be in doubt.

True to his words, we never met until after a long time. Eventually, my mother took me to Bole and after three years, my mother re-married a different man since her family had disapproved of her earlier relationship with my father.

I was also disowned by my step father who did not want my mother to come to the marriage with me. I was sent to my aunty in a village called Sanjari close to the Cote D'Ivoire border.

I became a shepherd boy until a CPP rally brought one late B.A. Saka, an uncle who was a District Commissioner of Bole in the 1960s, to Sanjari. Upon hearing my situation from my mother, he brought me to Bole to start school after he found out I could be bright. I was herding cattle and the commissioner asked that they bring me from the bush and requested I start school in 1960 whilst living in his house.

That was where I got to know and mingled with the former president, John Dramani Mahama, whose father was then the regional commissioner under Dr. Kwame Nkrumah`s era. My education began so well until the 1966 coup affected my uncle.This became another era of struggle, on how to do my O`level and A` level.
By all this time, I did not have anything to do with the Sissalas even though I knew a few of them. During cultural events, you will see me join the Gonjas and this continued until I joined the army in 1977. Since then life became bearable and I started to give back to my family", he narrated in a long chat with the Masie Breakfast Show in Tumu Monday morning.

Rtd Captain shared how he lived without a father as a child when he was separated from his biological father at age three over family differences and only met his father when he was a captain in the army.

"One day I returned from Sunyani and saw that my mother looked very morose. I asked why are you sad? She answered with a question, do you know your father? When I think about it I can`t sleep, then I replied " the time I needed to know my father has passed and I don't need to know it, I know you and it's enough.

My mom shouted and said she has heard people said in spite of all the things I have been able to do 'he does not know his father'. She gave me the lead to go to Mamoobi in Accra and from there, I was taken to a Sissala family where I was led to a place where my father lived in 1984 almost over three decades. I linked up with the lead persons and my efforts brought what happened.

"I went and met my father, very old and weak and, on pension. It was not a good scene where I saw him around Awudome Cemetery in Accra. He lived like a pauper. I was sad when I first met him. He asked me in Gonja,"are you Janaba's son? I said yes.

He replied that he gave me those tribal marks because he did not want to lose me.
Something run through me at that point. He also never married again, making me his only son.

He thanked God for enabling him to see me after a long while. I appealed to him to take him away from there. With time and encouragement from my wife, we moved him to Sunyani where I worked and made him comfortable through my wife who had a wonderful relationship with my him. Later, we moved to Bole, until he was brought to Yigantu, his hometown to settle.

This happened after several visits to our hometown. He mentioned how his father directed him to his hometown. "If you come to Tumu, you ask of Yigantu".

With the assistance of the late Tumu Kuoro, Luri kanton, late Teacher Benin, we visited Yigantu in the Sissala East district. Whilst in Tumu, they took me to Baka`s house where except Abu, all his brothers and sisters had died.

We were told during earlier visits that when my father was leaving the village, he was a small boy and that all his colleagues are dead now. On one of the visits, I came down to Tumu with my father where he introduced me to the late Teacher Benin as a native and a father and said anytime I come I should see him as such.

When my father was ill in the village, my wife and Maxwell visited Yigantu and stayed there for days.
"You obroni woman, you marry Sissala man, you are walking".

This happened each time Maxwell's mother had to walk from Nabugubelle to Yigantu on foot for about 15 kilometers when the road was not constructed. My father before his death got married again whilst in Yigantu and had a daughter who I live with today as my only sister.

This, he recounted to the fact that the whole country, the international media and the Sissala people had consoled and supported him and the family more than they expected during the funeral rites of his late son, Major Maxwell Adam Mahama.

Rtd Capt. Mahama said he trusted the information that has come out so far about the investigations and believed that the CID boss, the IGP and the Ghana armed Forces will come out with the best results.

He advised,"let us not do what the Denkyira Obuasi people did by catching the wrong person and lynching him. Don't let us do that".

"I have confidence in the police. I have confidence in the army and above all the president of the Republic of Ghana who has declared and given orders to the security to bring out the culprits. So we shall get justice for Maxwell," he declared on RadfordFM.
Source: Mohammed Balu