'How many people have done what I have done for this country'? – Prof. Frimpong Boateng fumes over arrest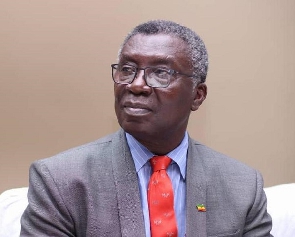 Professor Kwabena Frimpong-Boateng, former Minister of Environment, Science, Technology, and Innovation, has denied allegations of having evil intentions to sabotage the Akufo- Addo government.
In response to his recent arrest by the Special Prosecutor on corruption-related charges, Frimpong-Boateng expressed disappointment, claiming that his good intentions and contributions to the country have been misconstrued.

The former chair of the Inter-Ministerial Committee on Illegal Mining (IMCIM) spoke out about his achievements in an interview with Joy News on June 7, 2023. He stated that no individual in the country has accomplished what he has singlehandedly achieved for Ghana.

"I built a whole hospital and trained people, added structures and systems to Korle Bu with internally generated funds, and changed the way the Ghana Red Cross operates, as a minister. I introduced a lot of things that, if they had been pursued, we would have made a lot of changes in this country," Prof. Frimpong-Boateng revealed.

"Since I came from Germany, I planned the National Cardiothoracic Centre at the age of 39 and built this centre without a single cedi contribution from the government. I am talking about the building, and I have done many things, all in the interest of this country. I never thought about myself."
He added "How many people have done for this country what I have done, tell me, from a very young age only thinking about Ghana, If I have committed some errors fine, I admit it, but not where people are pursuing their greed and you point it out and you are demonized, that annoys me sometimes. And I think I will not allow myself to be intimidated by anybody."

Regarding his recent arrest and the allegations leveled against him, Frimpong-Boateng expressed his lack of concern, stating that if prosecuting him would solve the country's problems, then he would not object.

"…it doesn't worry me at all if prosecuting Frimpong-Boateng, and I have already said will solve the problems of this country… Look at all the bad things that are going on, look at all the corruption that is going on everywhere, and if this is the only thing that bothers whoever wants to investigate, fine. I'm saying that life is not static, at some point, somebody will be at the opposite end also receiving this same treatment."

On May 4, 2023, GhanaWeb reported that Prof. Kwabena Frimpong-Boateng had been invited by the Office of the Special Prosecutor, Kissi Agyabeng, to assist with investigations following allegations raised in a report he submitted to the presidency in 2021.
Prof. Frimpong had made suggestions that some elements in the New Patriotic Party and the government had made attempts to frustrate his work and sabotage him during his work as chair of the Inter-Ministerial Committee on Illegal Mining (IMCIM).

In the statement dated May 4, 2023, Prof. Frimpong-Boateng noted that he had duly received the invitation and had indicated his willingness to cooperate.

He noted that he was described as "a person necessary for the investigation".

The investigations will help bring clarity to issues of suspected corruption and corruption-related offenses in respect of the activities and expenditures of the dissolved Inter-Ministerial Committee on Illegal Mining (IMCIM).
You can also watch the latest episode of People & Places here:





Watch the latest episode of The Lowdown below:


AM/DO