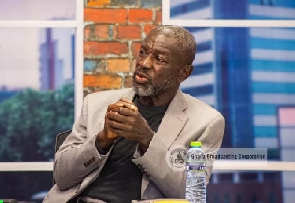 Prince Kofi Amoabeng, co-founder of UT Bank has opened up about how he was informed about the take over of his bank by the Bank of Ghana (BoG) in 2017.
At the time of the takeover, he was not actively working in the bank and he has in subsequent interviews insisted that the decision was politically motivated in part.

Speaking on a Twitter podcast, Bro Code, hosted by KalyJay, Amoabeng recounted how a flurry of missed calls and a call to his daughter led him to the news.

"If you go to calls (on your phone), all the contacts you miss are red. I saw my whole phone was red. I thought I had pressed something. Then I checked and I had missed call numbering about 60.

"Then I said no, something is very wrong. Then I saw one of the missed calls was from my daughter and I called her and asked, 'Awo, why is everybody looking for me?' because I was very apprehensive…" he recounted.

His daughter directed him to listen in to the news because UT bank was all over the media.

"And she said 'haven't you listened to the news this morning?' I said no, she said go to any station, they are discussing the government's decision to close UT Bank. I said 'okay. Then it is done," he added.
The Bank of Ghana (BoG) withdrew the licences of Capital and UT banks for being illiquid and deficient in capital in 2017.

The GCB Bank subsequently took over the two banks that were struggling to operate financially.

Watch Amoabeng's testimony below:


Bro Code Conversation with Captain Kofi Amoabeng Of UTBank pic.twitter.com/8v4drpXjYq

— KALYJAY (@gyaigyimii) August 18, 2023
SARA