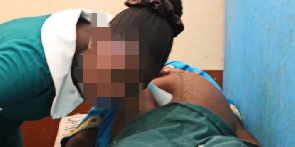 Upper West Regional correspondence
The swift response by a midwife in a moving vehicle saved a pregnant woman in labour after managing to deliver her safely of her baby.

The incident happened near Ponyentanga in the Wa West District of the Upper West Region Friday morning, June 2, 2023.

Speaking to GhanaWeb in a telephone interview on Friday, June 2, the midwife, Adam Fatmata, said the 24-year-old pregnant woman, Akua Regina, was on her way to Wa for delivery after having been referred from a health facility at Kulmasa, a community in the Sawla-Tuna-Kalba district in the Savannah Region.

The midwife from the Sawla District Hospital who was on her way to Wa for family visit indicated she happened to board the same vehicle with the pregnant woman who along the way went into labour, thereby immediately calling her to duty.

"On my way this morning to visit my family, I encountered a pregnant woman in labour. She entered our passenger vehicle at Kulmasa. Apparently, she was referred to Wa to go and deliver. On her way to Wa, we didn't reach Ponyentanga and she started pushing and I had to step up and deliver the baby in the car."
Fatmata added that when they reached a CHIPS compound at Ponyentanga in the Wa West District, she gave Akua Regina and her baby to the facility for further treatment.

"When we got to Ponyentanga, we branched there and then I gave mother and baby to the nurses there at the CHIPS compound there to continue the treatment," the midwife stated.

The passengers in the mini Sanyong vehicle who witnessed the scene showered praises on the midwife for her swiftness to successfully deliver the woman of the baby.

Both mother and the baby boy are said to be doing well.