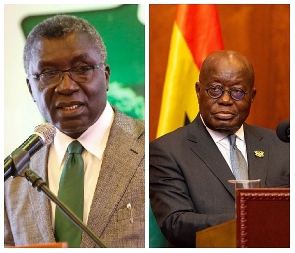 Former Minister of Environment and Technology, Prof. Kwabena Frimpong-Boateng, has revealed that he dispatched a team to reclaim land at the Kyebi residence of president Nana Addo Dankwa Akufo-Addo after it was threatened by the activities of illegal small-scale mining (galamsey).
The former minister authored a 2021 report on his tenure as leader of the government's galamsey taskforce, in which he made a myriad of allegations of complicity on the part of the high and mighty in galamsey.

He said, people in the governing New Patriotic Party (NPP) were actively engaged in galamsey citing specifically an NPP youth organizer whose activities had affected part of Akufo-Addo's private residence.

The relevant portion on the impact of galamsey on Akufo-Addo's residence was captured on page 29: it read; "The impunity in the Eastern Region is exemplified by near unbelievable activity in Kyebi.

"I had a telephone call from Mr. Eric Antwi of the Office of the President and he narrated that the youth organizer of the NPP in Kyebi was excavating for gold in a field close to the house of H.E. the President of the Republic. When we checked it was true.

"Indeed part of the garden of the President had been affected. Apparently, the President did not know about this.
"We quickly dispatched a bulldozer and an excavator to the area to reclaim the land and vegetate it. I need not say that nothing happened to the local youth organizer who caused the damage," he added.

The report, initially shared by US-based Ghanaian journalist, Kevin Taylor, has since been confirmed as valid by the former minister.




Share your news stories and ideas with GhanaWeb


Or

Contact GhanaWeb to advertise your product or services




Watch the latest episode of People and Places below:




Watch the latest episode of #SayItLoud below: